A radio station I've been listening to lately plays commercials from the Shriners. You know, the guys who show up at parades wearing fezes and zipping around in little cars. I realized, I don't really know what they do. Something to do with raising money for children. It's kind of creepy that a bunch of old guys in funny hats drive little cars and ask for money for kids. But I'm sure, once I know more about their organization, I won't think they're as creepy.
Shriners in their mini-cars
(Photo from the Frymaster)


The full name of the philanthropic organization is the Shriners of North America. This is a fraternity (group of men) with about 500,000 members in the US, Canada, Mexico, and Panama.
The money they raise goes to 22 hospitals that are all Shriners Hospitals for Children. They provide orthopedic surgery for children with various birth defects, and burn care, free of charge for children under the age of 18.
Shriners have raised money from within their own membership and from donors outside their organization to pay for childrens' hospital care since 1922. To understand how that came about, a little history of the organization is in order.
Shriners are actually Masons first. That is, they are members of the Freemasonry fraternity, one of those organizations of men that date back to who knows when. Specifically, a Mason must be a Master Mason before he can become a Shriner.
In 1870, a couple of the Masons from New York decided they wanted to make a new organization. One of the Masons was an actor and the other was a surgeon. These two came up with the rites of initiation, costumes, decided that members would wear a fez, came up with a symbol of membership, and all sorts of other stuff you must have if you are going to make a club.
The Shriner fez, by the way, has on it the symbol of the Shriners, which is a scimitar (curved sword) from which hangs a crescent moon, with a star dangling in the center of that. As far as I can tell, the only reason the founders picked the fez was because it fit the theme for their symbol and the other parts of the costumes, and they just liked it.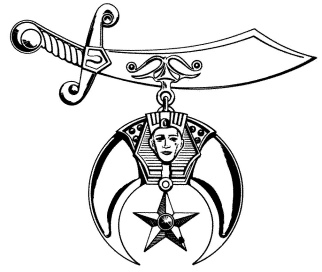 The Shriner crescent symbol
(Posted by JadenKale at shirt.woot!)


The Shriners started out as a social organization, with the fellows getting together and telling jokes and pooling their money to hire bands to play for them and so on. But then in 1919, one Shriner guy was visiting a hospital for crippled children in Atlanta (the name of the hospital included that phrase "crippled children"). He heard a musician playing a popular song outside his window and realized his group spent a lot of money hiring musicians, so why couldn't they put some of their money toward helping children who needed it.
Some committee meetings ensued, there were speeches and applause, and finally in 1922, construction began on the first Shriners Hospital for Crippled Children in Shreveport, Louisiana.
In 1962, the Shriners decided to add burn care to the list of treatments they would fund, after they realized there was only one burn treatment center in the United States, and that was part of a military complex. More recently, they have added spinal cord injury care as well.

To date, the Shriners have built a total of 22 hospitals, and over 700,000 children have been treated.
Here are some facts about Shriners:
The largest Shriner temple is in Indianapolis, with 10,627 members
There is at least one Shriner temple in each of the United States. Pennsylvania is the state with the highest number of Shriner residents.
Famous Shriners include:

Dave Thomas, Wendy's founder

Five-star general Omar Bradley

Five-star general Douglas MacArthur


Former President Gerald R. Ford

Former President Warren G. Harding

Former President Franklin D. Roosevelt

Former President Harry S. Truman


Voice of Bugs Bunny, Mel Blanc

Jazz Musician Count Basie

Singer/songwriter Kris Kristofferson

Director Cecil B. DeMille

Mel Blanc in his Shriners fez
(Photo from Kosair Shriners)


Sources
Shrine of North America, A Short History of the Shrine and Index
Gizeh Shriners of British Columbia, Famous Shriners
Ben Ali Shriners 2006, Want to be a Shriner?
Wikipedia, Shriners