On Saturday,
former CIA operative Robert Baer told CNN
that the information he's seen so far about Russian hacking suggests they did interfere in the US Presidential election with the express goal of helping one candidate (Trump) and hindering another (Clinton). He said, "When a foreign country interferes in your election and the outcome is in doubt, . . . I'm not a constitutional lawyer, but . . . I would like to see the evidence, because if the evidence is there, I don't see any other way than to vote again."
So, is this possible? Could the election not really be over? Could we be going through the whole thing all over again?
One of the other things Baer said was that "If we [the CIA] had been caught interfering in European elections or Asian elections or anywhere in the world, those countries would call for new elections."
Since all of this is on an international scale -- Russia involved in US politics, Baer using European or Asian countries as models -- I wondered what international law says about all this.
The UN does stipulate in its charter that violent or physical intervention by one country should not be used to sabotage an election in another. The UN went further in 1965, stipulating that "No State has the right to intervene, directly or indirectly, for any reason whatever, in the internal […] affairs of any other State" and that that every "State has an inalienable right to choose its political, economic, social and cultural systems without interference in any form by another State."
What this has meant in practice is that everybody agrees that no foreign country is supposed to go in and physically alter another country's vote or establish some coup to change the results of an election, or kidnap one of the candidates and assassinate them. That is, everybody pays lip service to that. But several countries -- including and especially the US -- have violated that agreement with little or no repercussions.
This is when the interference is obvious or violent. But when it's more indirect -- distributing fliers with false information to get citizens to vote a certain way, pouring millions of dollars into the desired candidate's campaign -- the rules get a lot more vague. Nobody seems willing to define exactly what constitutes this fuzzier kind of interference and what doesn't, nor do they seem willing to do much to try to change such behavior, or to interfere yet again to undo whatever interference happened.
So there's been a lot of interference by a lot of countries, in spite of those rules. One of the most notorious offenders has been the US. Here is a short list of occasions when the US is known to have interfered with, unseated, or downright overthrown the government in another country (NACLA, WaPo, Politico):
1906 US interfered in Cuba's presidential election
1945-1946 US interfered in Argentina's presidential election
1948 US interfered in Italy's presidential election
1953 US interfered in Iran's election for prime minister
1953 US interfered in the Philippine's presidential election
1954 US unseated Guatemala's sitting president
1961 US assassinated the ruler of Congo
1963 US supported a coup against the leader of Vietnam
1973 US supported a coup in Chile that put Pinochet in power
1984 US tried to sabotage Nicaragua's presidential election
2002 US interfered in Bolivia's presidential election
2002 US interfered in Nicaragua's presidential election
2002 US used the IMF to influence Brazil's presidential election
2004 US interfered in El Salvador's presidential election
General Pinochet and Henry Kissinger shaking hands after the coup & killing of Chile's president. Pinochet's bloodthirsty head of secret intelligence, Manuel Contreras, was a former member of the CIA.
(Image sourced from Steemit)
As the US has done such things, so has Russia. One political scientist finds that US and Russia "intervened in 117 elections around the world from 1946 to 2000 — an average of once in every nine competitive elections."
So, first of all, it's beyond disingenuous for an ex-CIA guy to act all shocked and say that if we had interfered in another country, they would do their election over again. Um, no.
Also, pretty much the rest of the world is laughing at us for pointing at Russia and shouting, "Hey! They messed with our election!"
But most Americans could give a rat's toothpick about international politics, or the UN, or what we did in the 1950s. As Jack Goldsmith from Harvard Law put it, this is America this has happened to.
Also, the interference seems different. They used computers. They hacked into our stuff. We've all got phones & computers & everything, so it's like those Russians touched all our stuff. Then they posted whatever dirty laundry they found (was it even that dirty?) about the candidate they didn't like on a site that some people considered to be rogue but maybe necessary. It seems like an invasion, a betrayal, and it's scary. Because if they did that, what else could they do?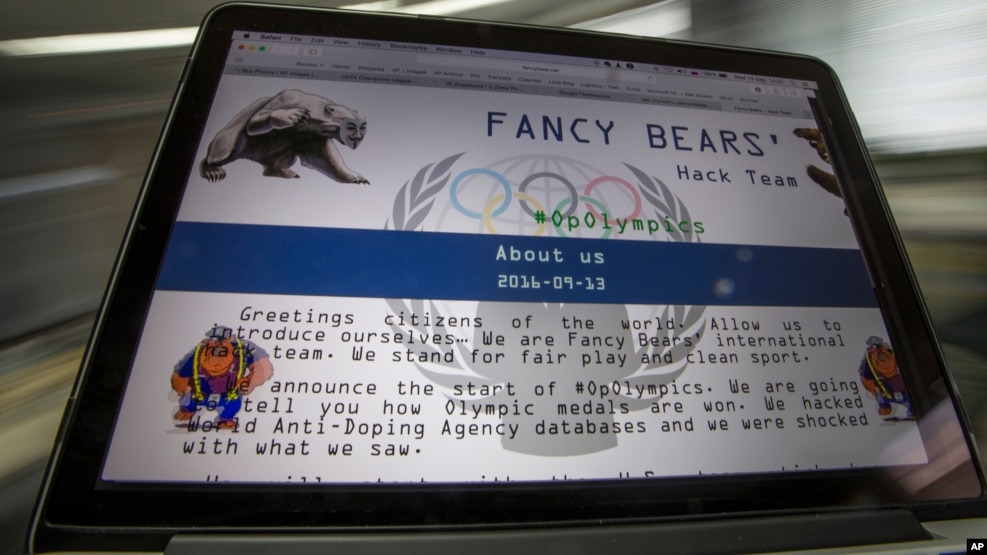 Screenshot of Fancy Bear website, boasting about having hacked the Olympics' anti-doping agency. No, the Russian government would have no interest whatsoever in the anti-doping agency being undermined.
(Image sourced from VOA)
Another reason this situation seems new is that it seems possible that "a presidential candidate of one U.S. party, [Donald Trump], might be working with—or at least supportive of—a major foreign adversary's efforts to covertly damage the rival presidential candidate." (again, Jack Goldsmith in the Atlantic)