So while I was home for Thanksgiving, I watched a lot of football with my dad. Professional, college, and high school. And they were each good games, actually.
At one point during the football-fest, my dad and I started talking about the Heisman Trophy. That must have been during the
Missouri-Kansas game
because the Missouri quarterback, Chase Daniel, is considered a top contender for the trophy this year.
Anyway, my dad said that usually offensive players win the Heisman because they get more air time. He said any football player could win, and that a few defensive players have won, but it usually goes to someone on offense.
I filed away that little remark as a possible Daily Apple topic. Now here we are with my question: have any defensive players won the Heisman?
Answer: yes. A few.
Oh, yeah. First I suppose I should say what the Heisman trophy is.
You'll notice, by the way, that the figure in the trophy is carrying the ball, stiff-arming an invisible defender. In other words, the trophy itself depicts an offensive player. Though I suppose the figure could have just recovered a fumble or caught an interception . . .
(Photo from Heisman Trophy)
The Heisman is a much-coveted award given to the best college football player in each given year. The trophy has been awarded since the 1930s, so it has a lot of history and because only one person wins it, it has a lot of prestige. The winner is decided by secret ballot, and the votes are cast by sports journalists and media people from all around the country, as well as by previous Heisman trophy winners. Additionally, recent voting rules have allowed one fan to cast a ballot. I don't know how they decide who that fan will be.
Each voter chooses his or her top three candidates in order of preference, with the first choice getting the most points and the third choice getting the least. Currently, about 950 people vote on the Heisman trophy-winner.
Now, for the defensive football players who've won the trophy.
LARRY KELLEY, Yale, 1936

(Image of 1936 trading card from the-game.org)
The second player to be awarded the Heisman Trophy.

It was actually the first year the award had that name. When he was told he had won, he didn't know what the award was.
He was a defensive end who played for Yale.
But he also played on offense and caught 15 TD passes, including a crucial one against Yale's arch-rival Princeton.
He was drafted by the Detroit Lions, but turned down the offer.
He went on to teach and coach football at the high school level.
Sadly, he sold his Heisman Trophy in 2000 to help pay his federal income taxes. Six months later, he died of a self-inflicted gunshot wound.

LEON HART, Notre Dame, 1949
(Photo from the College Football Hall of Fame)
Leon Hart also played on offense sometimes, but he's better known for his defensive performance.

In fact, he's considered by some to be the best defensive player ever
Voted All-American three of the four years he played
Won the AP's Athlete of the Year award in 1949
Known as "a savage blocker and tackler"
His team, Notre Dame, did not lose a single game his sophomore to senior year
He went on to play for the Detroit Lions
In 1951, he was the last player to win the All-Pro award for both offensive and defensive positions.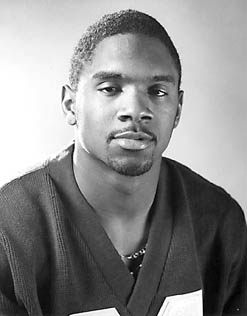 CHARLES WOODSON, Michigan, 1997
(Photo from University of Michigan's Bentley Historical Library)
Played as cornerback, whose primary job is to cover the quarterback and try to prevent passes
The season he won -- his junior year -- he had 8 interceptions.
He also played on offense as a pass receiver, and on special teams offense returning punts.
That year, he blew away Peyton Manning, Randy Moss, and Ricky Williams in the number of votes he received for the Heisman.
Started as a true freshman and was a two-time All-American.
He went on to play for the Oakland Raiders the following year, and was named the NFL Defensive Rookie of the Year.
And that's it. Everybody else is either a running back, quarterback, full back, or wide receiver. But mostly it's running backs who've won.
While the list of Heisman Trophy winners is like a mini-hall of fame list, here are some especially notable winners:
Paul Hornung, Notre Dame, 1956

Quarterback
NFL Green Bay Packers (halfback)

MVP in 1960 and 1961

Known also for his abilities to run, pass, block, and tackle. He was also a placekicker.

Vince Lombardi: "the most versatile man who ever played the game"
Roger Staubach, Navy, 1963

1st year in the NFL he was 27

MVP of Super Bowl VI

Voted into the Pro Hall of Fame the first year he became eligible
Archie Griffin, Ohio State, 1974 & 1975

Running back
31 games with 100+ yards his senior year


Only player ever to win the Heisman twice

Woody Hayes: "the greatest football player I've ever coached"

Tony Dorsett, Pittsburgh, 1976

Running back
Still holds numerous NCAA records including most seasons with 1,000 yards, most yards, most yards rushing, and several others
NFL Dallas Cowboys
Named Rookie of the Year in 1977 and played in the Super Bowl as a rookie

Barry Sanders, Oklahoma State, 1988

Averaged 200 yards per game his junior year, the year he won the Heisman

Sanders won Rookie of the Year with the Dallas Cowboys

Despite the Lions' abysmal performance, Sanders continued to rack up enormous statistics and to win several accolades for his abilities
And of course, this list would not be complete without:
O.J. Simpson, U of Southern California, 1968

Tailback

Broke several NCAA records in both 1967 and 1968
Won the trophy in the biggest voting landslide in the Heisman's history
NFL Buffalo Bills and San Francisco 49ers
First running back to pass the 2,000-yard per season mark
Sold his Heisman Trophy in 1999 for $230,000 to pay part of the verdict against him in the wrongful death suit won by the families of Nicole Brown Simpson and Ronald Goldman.

Enough of him. How about this instead:
Keep your eye on #2. One interception after another, TD receptions, even a pass of his own.
If you don't want to watch the whole thing (the sound is annoying), check out Woodson's leaping interception at about 3:50.
Sources
Heisman.com, Heisman Winners by Year, The Heisman Trophy
New York Times Obituaries, "Larry Kelley, 85, a Yale End Who Won the Heisman, Dies," June 29, 2000
College Football Hall of Fame, Leon Hart
Pro Football Hall of Fame, Paul Hornung, Roger Staubach
About.com, Football, O.J. Simpson