At long last, we come to the end of our series on
What's Your Favorite Place
. What does
RoboCop
have to do with geography, you ask? One avid reader (Anonymous) asked if I would write an entry about Detroit. I directed Anonymous to my
already-existing entry on Detroit
(paired with a companion entry about dachshunds, of course). Anonymous responded with:
I think the reason I forgot about the Detroit one was because you did not mention Robocop.
So I agreed that I would write an entry all about
RoboCop
and thus atone for my earlier omission.
Anonymous, I give you
RoboCop
(Screen shot from Roboarchive)
The movie is set in a futuristic Detroit which is crime-saturated and also run by a giant company called Omni Consumer Products (OCP).
To try to improve its image with shareholders, OCP decides to make robotic police officers to fight the horrendous crime in its city. Their test model has glitches and shoots a junior executive by accident.
Then a human police officer, Alex Murphy (played by Peter Weller) is killed in the line of duty. Or not completely killed, because an OCP scientist takes his body and uses that to build the company's super-robot, RoboCop.
This robot is a success and becomes a one-robot crime-fighting scourge.

RoboCop, bad-ass in the grocery store.
(Screen shot from DVD Active)
However, as RoboCop is wreaking carnage on all the bad elements in the city, he meets up with his former partner (played by Nancy Allen) and the Alex Murphy that still lives inside RoboCop begins to remember things. His memories become so undeniable that he changes his own mission to hunt for his creators at the top of OCP.
Here's what reviewer-types have to say about it:
Considered by many critics to be one of the best films of its genre. -- Rotten Tomatoes
RoboCop is a thriller with a difference. -- Roger Ebert
"RoboCop" does for cyborgs and Detroit what "Blade Runner" did for androids and L.A. -- Rita Kempley,

Washington Post



"RoboCop is cool in so many ways it's hard to count them all." -- Mutant Reviewers from Hell
RoboCop getting human
(Screen shot from DVD Active)
Now, in true Daily Apple style, here are some various facts about the movie:
RoboCop was nominated for two Oscars, for best sound and for best film editing
Though RoboCop was set in Detroit, it was actually filmed in Dallas. The only shot of actual Detroit is the opening aerial shot. The producer said of Detroit, "its architecture just wasn't right" for the movie.
All of the shots of Murphy being killed were shot during post-production in an abandoned auto assembly plant in Long Beach.
The robot suit was not exactly flexible. The first time Weller put it on, it took him 11 1/2 hours to get into it. Any time Weller had to get into or out of a car, the legs of the suit had to be taken off.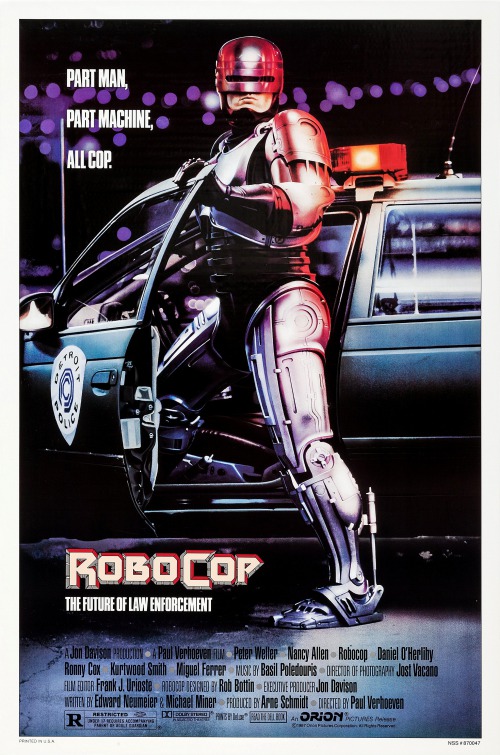 He's pausing on his way into the car because he can't get into it without taking the legs off his suit.
(Movie Poster image from IMP Awards)
One scene, when the robot is supposed to catch a set of car keys in his gloves, took an hour to shoot because the keys kept bouncing off the gloves.

The dysfunctional prototype robot ED209 was built by a guy named McNamara, intentionally named after the US Secretary of Defense during the Vietnam War. The design of robot itself was based on the structure of a particular helicopter used in Vietnam.
The malfunctioning ED209
(Photo from an End of Media essay RoboCop, Now and Forever)
The Bell UH-1H Huey, the most-used helicopter in the Vietnam War, was the basis for the design of the ED209.
(Photo from Wings of Eagles Discovery Center)
The evil Clarence Boddicker, head of the nastiest gang in Detroit, is played by Kurtwood Smith, who is now the dad on That '70s Show.
When Dutch Director Paul Verhoeven first read the script, he threw it across the room after reading the first 20 pages. His wife read it, said she saw more in it than the typical Hollywood B-movie. Since Verhoeven was having trouble getting money for his film budgets in Holland, he took the job. It was his first big-budget Hollywood film.
Verhoeven's other Hollywood movies:
Peter Weller also starred in another 1980s movie I spent scads of time watching with my friends, The Adventures of Buckaroo Banzai Across the Eighth Dimension, in which he plays Dr. Buckaroo Banzai, who is simultaneously a neurosurgeon, a quantum physicist, and rock star front man for the Hong Kong Cavaliers.
Buckaroo Banzai (Peter Weller, in the gray suit) and his Hong Kong Cavaliers. That's Jeff Goldblum peeking over Rawhide's shoulder.
"Everybody need see Buckaroo."
(Photo from IMDB Photo Gallery)

This marks the end of our look into various geographic locations. Thanks, everybody, for your requests.

Sources
IMDB, RoboCop
Rotten Tomatoes, Info & Tidbits about RoboCop
RoboCop Archive
Roger Ebert, RoboCop, July 17, 1987
Rita Kempley, RoboCop, July 17, 1987
Mutant Reviewers from Hell do RoboCop, March 15, 2004
Mark Athitakis, filmcritic.com, RoboCop, 2003