The response to my
request for votes on the topic of the next Apple
was purely overwhelming. Two people voted -- one person voted twice. Now, I do not mean to diminish the importance of these two votes. If you want something, you have to speak up and ask for it, and these people were bold enough to do that. They participated in the opportunity for democracy! They did not turn an indifferent eye on your beloved Daily Apple!
But since so many of you did
not
participate in the opportunity for democracy, I am going to exercise my power as dictator of this here Daily Apple and decide which of the three options I gave you I feel most like discussing today. Although the Acerbic Penguin voted twice for the fork, that entry will take quite a bit of searching and compiling and otherwise effort, and I'm pretty wiped out today. And besides, who doesn't want to know who Carly Simon is speaking to when she says, "You're so vain, you probably think this song is about you"?
Just to get you all in the right frame of mind for thinking about this song, here are the lyrics:
You walked into the party like you were walking onto a yacht
Your hat strategically dipped below one eye
Your scarf it was apricot
You had one eye in the mirror as you watched yourself gavotte
And all the girls dreamed that they'd be your partner
They'd be your partner, and....
You're so vain, you probably think this song is about you
You're so vain, I'll bet you think this song is about you
Don't you? Don't you?
You had me several years ago when I was still quite naive
Well you said that we made such a pretty pair
and that you would never leave
But you gave away the things you loved and one of them was me
I had some dreams they were clouds in my coffee, clouds in my coffee and....
You're so vain, you probably think this song is about you.....
Well I hear you went up to Saratoga and your horse naturally won
Then you flew your Lear jet up to Nova Scotia to see the total eclipse of the sun
Well, you're where you should be all of the time
And when you're not you're with
Some underworld spy or the wife of a close friend
Wife of a close friend, and....
You're so vain, you probably think this song is about you.....
Carly Simon in 1973, having dated quite a few famous men.
(Photo from the Daily Mail Online)
This song hit #1 on the Billboard charts in January of 1973. Ever since, people have been asking Carly Simon, the song's writer and performer, who the song is referring to.
She has said, though, that it is a composite of three men she knew -- or were her boyfriends -- when she used to live in Los Angeles.
So of course, the speculation has continued. Here are some of the people rumored to be the song's subject.
Warren Beatty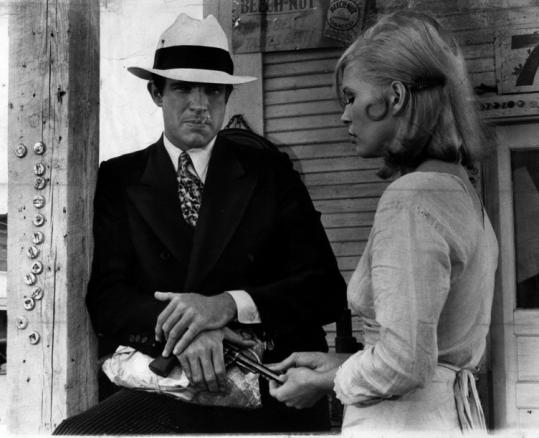 Still from Bonnie & Clyde, which was released in 1967. Note the hat, strategically dipped.
(Photo from Warner Bros, sourced from Boston.com)
Carly said, when asked if it was him, "It certainly sounds like it was about him. He certainly thought it was about him -- he called me and said thanks for the song." (That sounds like he meets one of the primary criteria right there.)
Until his marriage to Annette Bening when he was 55 years old, Beatty was a notorious womanizer. For roughly thirty years, he had multiple affairs with princesses, pizza parlor waitresses, actresses -- you name her, he probably dated her.
Here are some--but surely not all--of his more famous ex-girlfriends, in no particular order. Reading this list, I am not so much impressed at his prowess as I am dismayed at some of the women who fell prey to his wiles:
Carly Simon
Natalie Wood
Brigitte Bardot
Justine Bateman
Daryl Hannah
Faye Dunaway
Joan Collins

Jane Fonda
Linda McCartney
Kate Jackson
Raquel Welch

Jacqueline Kennedy Onassis
Madonna
Mary Tyler Moore
Joni Mitchell
Barbra Streisand
Vivien Leigh
Elle Macpherson
Connie Chung
Diane Sawyer

Cher
Diana Ross

Candice Bergen
Princess Margaret

Princess Elizabeth of Yugoslavia
Maria Callas
Sure looks like lots of girls are dreaming that he'd be their partner.
Recent update:

A biography, which may or may not be entirely factual, released in 2010 claims that Beatty slept with around 12,775 women from when he lost his virginity at age 20 until he married Annette Bening in 1992. Lauren Falcone of the

Boston Herald

did the math and figured this means that he would have had to have sex with at least one different woman each day for 34 years.
Now when I see photos of Warren Beatty, I find myself wondering, was that taken before or after he had sex that day? In this photo he's with Jack Nicholson and Lauren Bacall in 1977. Speaking of people with high numbers, I wonder what Jack Nicholson's is.
(Photo from Novak's blog)
Warren Beatty's mother was born in Nova Scotia -- which is where the man in the song flies his Lear jet to watch the eclipse.
Woody Allen once joked that if reincarnation exists, he would like to come back as Warren Beatty's fingertips.
Warren Beatty used to say to women over the phone, "What's new, pussycat?" Woody Allen found out about that and used it as the title of his very first film (which I think is one of the most hilarious things I have ever seen) about a thoroughgoing womanizer who finds it extraordinarily difficult to stop seeing other women and get married.

What's New, Pussycat stars Peter O'Toole as the Warren Beatty-like philanderer, Peter Sellers as his insane psychotherapist, and Woody Allen as sort of the counterpoint to Peter O'Toole. Sheer wackiness.


Beatty was supposed to star in it, but then Woody Allen's part started getting more air time, and Beatty's role got smaller and smaller until he got mad and quit. Regardless, they remained friends and both dated Diane Keaton off and on for several years. Oh, how nice.
This was well after Carly Simon wrote her song, but Warren Beatty was on the cover of Playgirl in 1987.
(Photo from ioffer.com)
Shirley MacLaine is his sister. That has nothing to do with anything in this entry; I just find that fact astonishing.

Mick Jagger


Mick Jagger in 1971, with Bianca. He is wearing a scarf and a hat, but not quite in the style the song seems to suggest.
(Photo from Great black and white pictures from 1964-1974)
This guess surprises me a bit. But he did sing back-up vocals on the song. Here's how that bit of teamwork came about, according to Simon:
I was in London, it was 1972 and he happened to call at the studio while I was doing the background vocals with Harry Nilsson. Mick said "Hey, what cha doin'?" and I said "We're doing some backup vocals on a song of mine....why don't you come down and sing with us?"
So Mick and Harry and I stood around the mike singing you're so vain and Harry was such a gentleman - he knew the chemistry was between me and Mick; in terms of the singing, so he sort of bowed out saying "The two of you have a real blend - you should do it yourselves."
And that's how it happened.
Apparently, the rumor about Mick Jagger exists because he sang back-up vocals. But would somebody who is getting thoroughly skewered want to sing back-up in a song about how rotten he is?

Elsewhere, Carly has denied several times that she ever slept with Jagger. Once upon a time in 1972, Bianca Jagger called up James Taylor -- to whom Carly Simon was not yet married -- and told him that Mick and Carly were having an affair. Taylor said that wasn't true, Simon said it wasn't true, and then Taylor and Simon got married very quickly after that.

Here's an interesting little tidbit: one of the people who asked Carly if the song was about Mick Jagger happened to be Diane Sawyer -- another one of Warren Beatty's ex-girlfriends. I wonder what else Carly and Diane talked about that didn't make it into the interview?
James Taylor
James Taylor and Carly Simon just after their wedding in 1973, on the cover of Rolling Stone.
(Photo from Rolling Stone)
Since the two of them got married just before the song hit number 1, a lot of people thought it might have been about him.

But first of all, that's really a great thing to say about your brand-new husband. Sign of a healthy marriage that'll last for decades. I'm being sarcastic.
She straight-out denied that it was about him, which she hasn't done about any of the other men she was asked about. Here's what she said back in 1973:
No, it's definitely not about James, although James suspected that it might be about him because he's very vain. No, he isn't, but he had the unfortunate experience of taking a jet up to Nova Scotia after I'd written the song. He was saved by the fact that it wasn't a Lear.


They are divorced now, though.
Kris Kristofferson
Carly Simon and Kris Kristofferson,
Vanity Fair
, April 1974?
(Photo sourced from NoGoodForMe filmstills blog)
She did date him, and she covered one of his songs ("I've Got to Have You") on her 1971 album.
He had been a Rhodes scholar at Oxford and a captain in the US Army.
He had a pilot's license, but he flew helicopters. In one famous incident, he landed his helicopter in Johnny Cash's yard to give him some tapes of songs.
He did have a pretty big problem with the alcohol; it cost him his job as a helicopter pilot when he passed out at the controls, and his wife Rita Coolidge divorced him because he was drinking a bottle & a half of whiskey each day.
He also had a job as a janitor for a while. I don't see somebody who's particularly vain working as a janitor.
Generally, he's best known as a drinker and a partier and a hard-living guy. Probably a good dose of vanity comes along with that, but I don't see a bunch of girls lining up wanting to be his partner.
Cat Stevens


Cat Stevens in the 1970s. I can't picture him in an apricot scarf and a rakishly tilted hat, can you?
(Photo from Listal)
She wrote "Anticipation" about waiting for a date with Cat Stevens.

She did write "Anticipation" before she wrote "You're So Vain," so I suppose it's possible she could have looked forward to seeing him and then, once things went south, changed her mind and decided he was vain.
But Cat Stevens has since become a Muslim, changed his name to Yusuf Islam, and has held concerts to benefit charities like UNICEF. And he wrote "Peace Train," for crying out loud. I really don't think it's him.

My Final Answer
Most recently, in an interview in May of 2008, Carly Simon said:
"When I had the line 'You're so vain, you probably think this song is about you,' that was definitely about one person. The rest of the descriptions basically came from my relationship with that person."
This contradicts what she said much earlier, about it being a composite of three people. And the more I look into these men and her relationship with each of them, the more I'm convinced it is one man: Warren Beatty.
Sources
Carly Simon Official Website, So Carly, just who

is

"You're So Vain" about?
NNDB, Warren Beatty
Who's Dated Who, Warren Beatty
Lauren Beckham Falcone, Warren Beatty was into lights, cameras, and lots of action,

Boston Herald

, January 5, 2010
Nationmaster, Encyclopedia, What's New, Pussycat
Carly Simon Still Denies Sleeping with Mick Jagger, The Insider, date unknown
Brian Balthazar, "Singer wants to 'Serenade' fans with love songs," MSNBC, October 20, 2005
Wilson & Alroy's Record Reviews, Carly Simon
IMDB, Kris Kristofferson
AOL Music, Kris Kristofferson biography
Classicbands.com, Cat Stevens
"Carly Simon stays silent about who was so vain," Reuters, May 2, 2008