I'm working on a big ol' entry that I was hoping to have finished for you tonight, but it's not going to happen. So I thought I'd find some quick facts about an institution that is related in a way to this here Daily Apple: a repository for an insane amount of knowledge, the Library of Congress.
The mission of the Library of Congress is to sustain and preserve a universal collection of knowledge and creativity for future generations. That's an enormous goal. So naturally, the Library of Congress will itself be enormous.
The Library currently holds around 145 million items -- books, photographs, maps, audio recordings, sheet music, manuscripts. These items occupy 745 million miles of shelves.
This includes materials also collected by overseas offices in India, Egypt, Brazil, Indonesia, Kenya, and Pakistan.
The original Library was burned by British troops in 1814. Thomas Jefferson donated his personal library of 6,487 books as its replacement. So our Library of Congress started with his collection.
Today, the Library receives about 22,000 new items each day. Librarians are able to process around 10,000 per day.
In the US, the materials are stored in three separate buildings in on Capitol Hill and in several off-site storage facilities. All the library stacks are closed, but as long as you're at least 16 years old, you can go there and look at materials by request, on site in the reading room.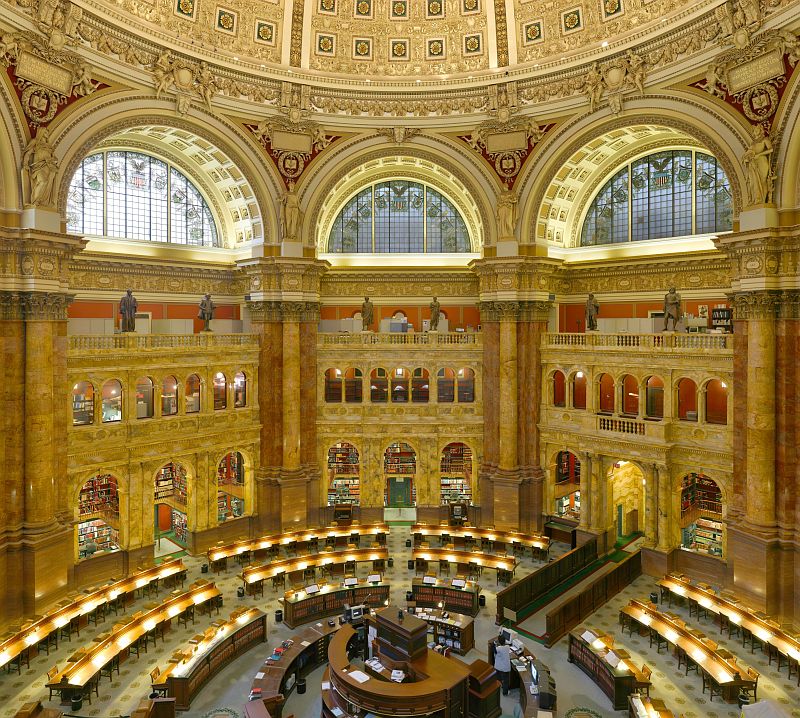 Reading room at the Library of Congress.
(Photo from UC Berkeley's Wiki on Visualization)
The Congressional Research Service, which is like a small army of people, responds to requests from Senators and Representatives and provides them with materials or research from the collection. The idea is that the Library and the CRS will help our elected officials be as informed as possible about all sorts of topics.
The Librarian of Congress -- the person ultimately in charge of the whole shebang -- is appointed by the President and confirmed by the Senate. There have been only 13 Librarians of Congress since its inception in 1800.
The current Librarian of Congress is James H. Billington, who was sworn in on September 14, 1987.
The Librarian of Congress is also the person who selects our country's Poet Laureate.
Our current poet laureate is Kay Ryan. Here is one of her poems:
Sharks' Teeth

Everything contains some
silence. Noise gets
its zest from the
small shark's-tooth
shaped fragments
of rest angled
in it. An hour
of city holds maybe
a minute of these
remnants of a time
when silence reigned,
compact and dangerous
as a shark. Sometimes
a bit of a tail
or fin can still
be sensed in parks.
Sources
Library of Congress, About the Library