Continuing my series of entries on Christmas in various parts of the world, I thought I'd go to a climate very different from our last locale, which was
Antarctica
, and slide up to Australia.
Like Antarctica, Australia is in the Southern Hemisphere. So they're enjoying the middle of their summer, with the longest, sunniest days of the year, when Christmas happens.
That's Australia, between the Pacific and Indian Oceans. Beneath it, blown way out of proportion, is Antarctica.
(Map from the Australia Bureau of Meteorology)
Unlike Antarctica which is covered with snow even in summer, Christmas in Australia is hot! An estimated 40,000+ people go to Bondi Beach near Sydney on Christmas Day.
Australians celebrating Christmas at the beach.
(Photo from ShadowPrincess.com)
Even though there's no snow there on December 25, Santa still does come to Australia. Except he usually doesn't arrive by reindeer-driven sleigh. Sometimes his sleigh is pulled by kangaroos.
If the Australian Embassy says that Santa's sleigh is pulled by kangaroos, it must be true.
(Photo from Truth and Beauty Bombs)
More often, he arrives on something entirely other than a sleigh. His vehicle may choice has included just about every craft imaginable: boat, jet ski, waterskis, unicycle, fire truck, parachute from a plane.
Santa arriving in Australia by boat
(Photo from the National Archives of Australia, sourced from the Australian Government site)
That rubber craft in the background was how Santa got to the beach.
(Photo from Tom Wills' Christmas in Australia page)
People actually worry about Santa getting heat stroke while he's in Australia. That outfit just isn't made for hot weather.
For the most part, Australians do a lot of the same things that northerners do: send out Christmas cards, make a lot of food in advance, sing carols, put up the Christmas tree, and so on. But some of those things have a little bit of an Aussie twist to them.
People in different parts of Australia celebrate Christmas in slightly different ways.
(
Map of Australia from International Travel Tours)
One tradition in Australia--Melbourne, in particular--is known as "Carols by Candlelight." This event was started by a radio announcer named Norman Banks in 1937. In the same way that people gather for a fireworks display in the summer, at around dusk, all sorts of people go to their local park or beach or lake, and they bring picnic baskets and rugs and chairs and things to drink and candles (carefully shielded from the wind). But instead of fireworks, they also bring sheet music of Christmas carols. All these people, adults and children, sing Christmas songs together.
Sydney, meanwhile, hosts a different event called Carols in the Domain. Here, famous musicians and performers such as Josh Groban, Altiyan Childs, and even The Wiggles sing Christmas carols and perform their own music. Events begin in the afternoon and continue until 11 p.m. This is usually televised throughout Australia. This year's Carols in the Domain took place on December 18.
Favorite Australian foods at Christmas include cold turkey or ham -- too hot to cook! -- seafood, salads, ice cream, and puddings.
A favorite dessert is Pavlova, which is a meringue cake with a marshmallow center, whipped cream on top, and fresh fruit on top of that. Sounds delicious!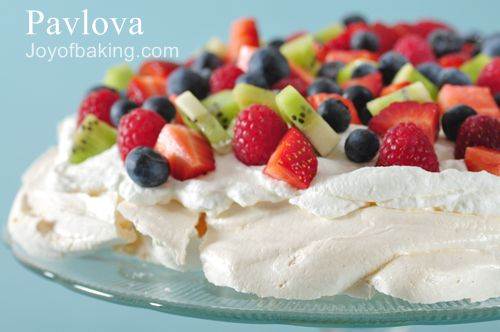 Pavlova, the popular Christmas meringue dessert in Australia and New Zealand. Of course you'll want to put kiwi fruit on top!
(Photo and recipe from Joy of Baking)
Lots of flowering plants in Australia bloom around Christmas time, and they've become known as Christmas plants.
Christmas bush, or Christmas mintbush (Prostanthera lasianthos). This is the less common, pink variety. More commonly, the flowers are white and a little spikier, less bell-shaped.
(Photo from the Australian Plant Society)
Speaking of bells, there is a plant called Christmas Bells. There are two species of them, actually. This is Blandifora nobilis.
(Photo by Greg Miles on Flickr)
The Christmas orchid (Calanthe triplicata)
(Photo from eating chaos)
Very different than holly and ivy and pine boughs, aren't they?
The Aussis have their own version of the Twelve Days of Christmas, too:
On the first day of Christmas, my true love sent to me
A kookaburra in a gum tree.

Two cockatoos........
Three parakeets.........
Four great galahs.......
Five opals black......
Six 'roos a-jumping........
Seven emus running.......
Eight koalas clinging.........
Nine wombats waddling........
Ten dingoes dashing.......
Eleven snakes a-sliding.......
Twelve goannas goin'.......

On the twelfth day of Christmas, my true love sent to me
Twelve goanna goin,
Eleven snakes a-sliding,
Ten dingoes dashing,
Nine wombats waddling,
Eight koalas clinging,
Seven emus running,
Six 'roos a-jumping,
Five opals black,
Four great galahs,
Three parakeets,
Two cockatoos,
And a kookaburra in a gum tree.
Oh, and here's how the kangaroos celebrate Christmas:
(Photo from PRLog)
Psst. Did you notice, this is entry #499? That means Daily Apple #500 is coming up next. Any guesses what it'll be about?
Sources
ShadowPrincess.com, Christmas in Australia
Australian Government Culture and Recreation, Christmas season celebrations in Australia
Tom Wills, Christmas in Australia