Now that I've gotten a couple broken hand-related entries out of my system, I can move on to the topic that have accumulated in my brain while I've been away in the Land of No Internet. First on the list is this question from Daily Apple reader Katerina:
So, the Miss Universe Pageant was on the other night. Naturally, I did some research. Did you know that there's a separate Miss Puerto Rico and Miss U.S.A.? Why is this? Puerto Rico is still part of America, right? Are there other similar scenarios for other countries that participate in Donald Trump's pageant? I feel like there's a Daily Apple in here somewhere.
It seems to me that there are two ways of going about answering this. The first would be to clarify Puerto Rico's official, political relationship with the US, and then to see how the Miss Universe rules compare. But that is clearly the more boring option. So I'm going to take the other route and start with the Miss Universe pageant.
Miss Puerto Rico Universe 2012, Bodine Koehler
(Photo from Missisology)
Between 75 and 85 countries send a candidate to compete in the Miss Universe pageant.
The reason this isn't an absolute number is due to a host of possible reasons:
Some countries choose their national candidate through a private modeling agency screening process rather than in a pageant, which the Miss Universe pageant frowns upon
Some countries don't hold a pageant because they can't get enough TV viewers interested
Some countries resist the requirement that their candidates compete in a swimsuit competition
Some countries simply do not send a candidate, such as Sweden in 2005, in response to an outpouring of feminist protests in the country.
Sweden seems to have changed its mind about the issue, because they sent a candidate this year, Hanni Beronius.
(Photo from Missisology)
In 2002, Miss Lebanon pulled out of the competition because Miss Israel was competing. In 2006, the contestants from the two countries made sure not to stand next to each other for photos, lest the photos prove "dangerous" for Miss Lebanon on her return home, "as have similar photos for Arab Miss Universe contestants in the past."
But I'm digressing.
This is all very interesting, but it doesn't answer the question. I guess I'll have to go about this from the boring direction.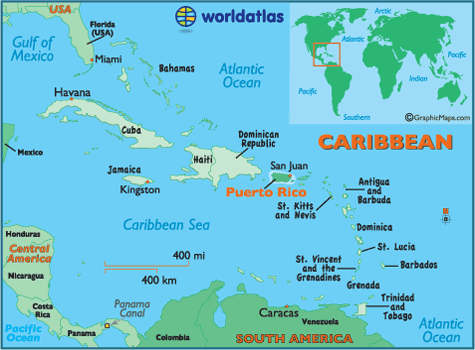 Puerto Rico is an island in the Caribbean just east of the Dominican Republic.
(Map from worldatlas)
Puerto Rico is currently a commonwealth.
In practice, being a commonwealth works a lot like being one of the United States: the US federal government is their ultimate authority, they use US currency, they elect Puerto Ricans to run things locally, they have their own governor, and while its civil laws are based on the Spanish civil code, in practice, the laws are very similar to those in the US. Citizens of Puerto Rico are United States citizens.
The major differences are that Puerto Ricans can't vote in US Presidential elections, they have no representatives in the US House or Senate, and they are not subject to some of the IRS' income tax requirements, though they do pay into and receive Social Security.
Here's a little note on the site that is my primary source for this information: "Although Puerto Rico is considered a territory of the United States, the island has its own Olympic team and competes in the Miss Universe pageant as an independent nation."
That leads to the next part of the question: is Puerto Rico unique, or do the other US commonwealths have their own contestants competing in Miss Universe?
Other US commonwealths (inhabited and therefore able to send someone to the Miss Universe pageant):
American Samoa
Guam
Midway Islands
US Virgin Islands (St. Croix, St. John, St. Thomas)
American Samoa did not have a contestant in the Miss Universe pageant in any year from 2009-2012, but they did host the Miss South Pacific pageant this year.
Guam has sent a contestant each year from 2009-2012.
This year, Miss Guam Universe was Alyssa Cruz Aguero.
(Photo from Telemundo 47)
Midway Islands, like American Samoa, has not sent a contestant for the past 4 years.
The last time the US Virgin Islands sent a contestant was in 2010.
Miss US Virgin Islands Universe in 2010 was Janeisha John. Miss Angola won that year.
(Photo from Linda Ikeji's Blog)
So it seems that the Miss Universe organizers consider US commonwealths to be separate countries.
By the way, Puerto Rico regularly debates and votes about changing its status relative to the US. Some Puerto Ricans want the commonwealth to become an independent country; others want it to become the 51st state. Ultimately, it is the US Congress that can decide Puerto Rico's political status.
Here are all the 2012 Miss Universe contestants. Plus showgirls, of course.
(Photo from Beauty Contest Update)
Sources
Miss Universe, FAQ
Sweden without Miss Universe Contestant for the First Time Ever, PRWeb, April 14, 2005