Lately I've been reading about the Olympics. Not just the
upcoming competitions
that will begin in two weeks, but all sorts of stuff from past events. Today, I stumbled across a description of the Marathon in 1904, and all the things that led up to and went on during this race are pretty insane. Keep in mind, this was around the time when people were just getting used to the newly-invented automobile.
One of the race's most captivating entrants was Felix Carvajal de Soto. He was from Cuba, where he worked as a mail carrier. He decided he wanted to enter the 25-mile Marathon, but he couldn't get the government to fund him. So he quit his job and ran around the city square in a series of exhibitions to raise cash to pay for the trip to St. Louis.
He got enough donations to pay his passage as far as New Orleans. Once there, what seemed to be part of Carvajal's generally cavalier attitude led him to take part in a game of street craps. He lost, which meant he had no money left to pay for him to get to St. Louis.
Fundless, he walked and hitch-hiked the rest of the way, some 700 miles. He was taken in by the US weightlifting team, who fed him and gave him a place to sleep.
On the day of the race, he lined up to run in the only clothes he had: long pants, long-sleeved shirt, and street shoes. A US discus-thrower helped out by trimming the sleeves of his shirt and the legs of his pants, but no one helped him out with the shoes.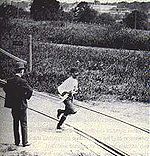 Does the guy in this (admittedly tiny) picture look like a marathon runner to you? Actually, he is. This is Carvajal, in his pants cut to knee-length, long-sleeved shirt, and street shoes, running on a dirt road and crossing over trolley tracks.
(Photo from Absolute Astronomy)


The race was scheduled for the middle of the afternoon, which happened to be experiencing 90 degree heat that day. The course was also mapped out by people who knew nothing about running marathons, so the track went up and down seven hills and consisted of dusty roads, made dustier by the new-fangled automobiles that people were driving ahead of and behind the runners. Only one water source was provided to the runners, and that was 12 miles into the 24-plus mile course.
The combined nastiness of the heat, the bad course, and the lack of water took its toll on just about everybody. Only 14 of the 32 starters finished the race at all.
At 10 miles, John Lordon, a previous winner of the Boston Marathon, started vomiting and had to stop.
Shortly after this, William Garcia from San Francisco was found lying unconscious due to a stomach hemorrhage.
Another previous winner of the Boston Marathon, Sam Mellor, was leading halfway into the race, but he dropped out at mile 16.
One of the three African competitors -- the first Africans ever to run in the Marathon -- was chased off the course and through a cornfield by at least one large dog (reports vary as to whether it was one dog or two). He did manage to finish, though well back from the lead, in 9th place.
Meanwhile, Carvajal was approaching the whole thing with his usual cool, cavalier style. He stopped to talk to bystanders, discussing the progress of the race with them and practicing his English. He ran backwards for a while, joking with people on the roadside. Hungry after his 700-mile walk over the previous few days, he stopped and leaned into the car of an official and took a peach out of his hands and ate it. Later, he detoured into an apple orchard and ate some of the green apples he found on the ground. Even with all his hijinks and detours, many people say he might have won the race, had it not been for the apples, which naturally gave him stomach cramps and slowed him down.
At the finish line, the spectators were getting restless. Three hours had passed and no one showed, but then finally an American, Fred Lorz, appeared. He was hailed as the winner, lifted on people's arms in triumph, photographed with President Roosevelt's daughter Alice, given the wreath, but then some officials who had been on the course ran up and said no, this was all wrong.
What had actually happened was that at the 9th mile, Lorz got stomach cramps. He got into his handlers' car and waved at the athletes as he sped past. Then at mile 20, the car broke down, so he got out and started running again. When the officials called him on this, he admitted he had done it, saying it was a practical joke and he just couldn't resist all the applause and the attention. The officials didn't think it was funny, took back the wreath, and said he was banned from amateur competition for life (except in 1905, he was allowed to run in the Boston Marathon).
The next person to cross the finish line was Thomas Hicks, a Massachusetts brass worker. His handlers had driven alongside him in their car, and 10 miles from the finish, he had begged them to let him lie down. They refused to allow it, even though he was 1 1/2 miles ahead of the next runner. To bolster him, they made him drink a mixture of strychnine sulfate and raw egg whites. When he complained again later, they gave him more strychnine, this time mixed with brandy. Still later, he complained again and though the brandy had run out, they borrowed some and gave him more. They also bathed him with warm water heated by its proximity to the boiler of their steam-powered car.
By the time Hicks crossed the finish line, he was exhausted and drunk. He was so incapacitated, his handlers supported him under the arms as he crossed the finish line.
In spite of the extra assistance he had received, he was awarded the gold medal. After four doctors attended to him, Hicks boarded a trolley car to go home, but he fell asleep on the trolley and no one knew where he was until much later the next day. When he awoke, he discovered he had lost 10 pounds from the experience.
"I would rather have won this race than be President of the United States," Hicks said, then announced his retirement from running.

The silver medal, by the way, went to Albert Corey, a Frenchman who was also a professional strikebreaker. He had arrived in Chicago in 1903 during a butchers' strike and stayed in the country because he found work plentiful.
The bronze went to Arthur Newton from the US, who had finished fifth in the Olympic Marathon in Paris in 1900.
Carvajal finished fourth.
For more photos of Carvajal, Hicks, and Mellor, visit
TopFoto
(they won't allow their photos to be reproduced without prior permission).
Sources
Wallechinsky, David,
The Complete Book of the Summer Olympics
, Athens 2004 Edition, Toronto: Sport Media Publishing, 2004, pp 285-286.
History House, Olympic Follies
History News Network, The Worst of the Olympics Was Held ... ? (reprinted from John Hanc's August 25, 2004
Newsday
article)
Useless Information, 1904 St. Louis Olympic Games