I know you'll be happy to hear that so far,
my fish
is doing well. He seems to like his new fish bowl, complete with tufty fake plastic plant. Today he ate FIVE food pellets. His first day here, he didn't eat anything.
Okay, on to business. The other day, I watched the movie version of Neil Simon's
Plaza Suite
. The movie was made in 1971 and starred Walter Matthau as the male lead in all three of the vignettes (a directing decision Simon later said he hated). In both the movie and the play, three acts, each with different characters, take place in the same room of the Plaza Hotel in New York City.
Barbara is the one being kissed, to the right of the word "Plaza"
(Image from cover of Plaza Suite DVD)

Barbara Harris appears in the second act, as a married woman coming to visit an old friend who is now a big-time movie producer. She wants to resist temptation, but Mr. Kiplinger's sweet-talk and his knowledge of all the famous people in Hollywood make it difficult for her to resist.
In this part, she's got her hair all fluffed up on top of her head, except in a disarray that may or may not have been meant to suggest she's a scatterbrain. She also wears these really snug brown gloves, with two little zippers on the back. There's a shot of her fist, knocking on the door of the suite. I liked her gloves.
Harris' head shot, from some time back: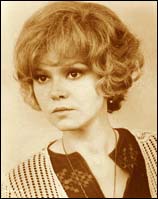 (Photo from Wisdom Portal)

But it was bothering me, where I recognized her from. She had a sort of husky voice, and I recognized that scatterbrained, half-ditzy nature she was portraying. She reminded me of a friend of mine, yes, but there was more to it than that. So I looked it up.
Turns out, she's been in many movies, and she was also a pretty major figure in Broadway theater. But I recognized her from
Freaky Friday
. Eons ago (
1976
, to be exact.)
The latest cover of the original Freaky Friday movie, with really bad depictions of Jodi Foster in the foreground and Barbara Harris in the background, making a face.



Here's a better picture of Barbara Harris in a screen shot from the movie
(Photo from Ultimate Disney)


Harris was also in
Grosse Pointe Blank
(1997), apparently as a minor character. I can't say because I haven't seen it. And she was in
Peggy Sue Got Married
, playing Evelyn Kelcher, the supporting role to Kathleen Turner. That's another time warp movie, come to think of it. And
Grosse Pointe Blank
is sort of about nostalgia, too. Hmm, could there be a theme here?
She also played Fanny Eubanks in
Dirty Rotten Scoundrels
, a movie about two con men trying to squeeze money out of unsuspecting women. In
Family Plot
, she was a fake psychic working with her taxi-driver boyfriend to scam people. That movie, by the way, was Hitchcock's last film, but it was more goofy than what you'd normally associate with Hitchcock.
Here's Barbara with Bruce Dern (another popular 70's actor) in Family Plot.
(Photo from movieactors.com)

She's had more critical success in the world of Broadway, having been awarded three Tony awards, two for Best Actress in a Musical, and one for Best Supporting Actress, also in a musical. Early in her career, she was a member of "The Compass Players," which was a traveling improvisational theater troupe, the first of its kind. It later became known as Second City. Though her then-husband was its director, she was no slouch onstage and is generally considered to be one of the pioneers in women's improvisational theater.
She is reported to be teaching and directing currently, but I couldn't find any source that said where.
More pictures of her, all black & white, are available
here
. She does that stunned/startled look quite a bit, apparently.
Sources
IMDB, Barbara Harris
Movie Actors, Barbara Harris
Wikipedia, Barbara Harris