I realized the other day that I know hardly anything at all about architects. I can name a lot of famous painters and a few famous photographers, and of course I know of tons of musicians, but I don't know of very many architects at all. Frank Lloyd Wright and
Mies Van der rohe
are about it.
So I decided to teach myself something about a famous architect who is new to me. And I just picked a name, Eero Saarinen, because it's a crazy-looking name and I thought, maybe I'd learn something exotic besides.
Turns out, he was influenced by Mies van der Rohe, and is known as a modernist architect. His work is characterized by a similar clarity of design, yet his buildings often include dramatically curved, sometimes swooping roofs. He also uses lots of ovals or elliptical shapes, and he's a big fan of windows and allowing in natural light. I find the shapes of his buildings very pleasing and a welcome relief from all the rectangles and squares typical of industrial buildings.
After seeing photos and reading descriptions of his work, I am very impressed by what he's done. I'm also glad I learned about him.
Eero Saarinen was born near Helsinki, Finland in 1910.

His father was a noted architect, Eliel Saarinen, who was also the first president at the Cranbrook Academy of Art in Bloomfield Hills, Michigan. His mother, Loja, was a sculptor who also made architectural models and was a photographer and a weaver as well.
In 1923, Eero emigrated with his family to the United States and became a citizen.
He studied sculpture in Paris and architecture in the US at Yale. Following a year of travel in Europe, he returned to the US and taught at his father's school, Cranbrook.
In 1937, he collaborated with another architect, Charles Eames, in designing furniture (later, he would name his child by his second marriage Eames, after his friend). They won all sorts of awards in The Museum of Modern Art's 1940 competition called Organic Design in Home Furnishings.
He finally settled into working at his father's architectural firm near Cranbrook until 1950.
He is best known for his creation of the TWA terminal at John F. Kennedy Airport in New York City.


The building has all sorts of sweeping, dramatic curves, wing-shaped overhangs, and oval shapes, all of which help to suggest flight and the sky.
Photos from Galinsky, a free service for people interested in modern buildings


He also constructed the Gateway Arch in St. Louis, Missouri, which I think is far more impressive or at least notable, but for some reason, people always seem to mention the TWA Terminal before they mention the Arch. He was awarded the commission to build the Arch after winning a design contest in 1947.

The Arch is a 630-foot high single tapered curve made of steel. It stands on the bank of the Mississippi River in St. Louis and is meant to symbolize a doorway into the American West. It is the tallest memorial in the United States.
Other buildings he is known for include:
Dulles Airport in Chantilly, Virginia (near Washington, DC), which has one great big swooping roof over lots of windows.
Kresge Auditorium
(Photo by M. A. Sullivan, from Bryn Mawr's collection)


Kresge Auditorium at MIT, has a geodesic dome which is like a cap that is pulled down into points at opposite ends. The outer walls of the structure under the cap are all windows.
Kresge Chapel, also at MIT, is a non-denominational chapel that does not use any symbols that could be associated with any particular religion. The building is compact, circular, and high-walled, fairly unassuming looking from the outside.
Photo from Galinsky


However, on the inside, the brick walls curve in an undulating pattern, and natural light that descends from above the altar illuminates a decorative screen of golden metal rectangles that shimmer impressively.

Photos from Galinsky
Other buildings he created include:
John Deere Headquarters in Moline, Illinois, which was the first building to use weathered steel, which is left unpainted and allowed to form its own cinnamon-colored protective coating.
North Christian Church in Columbus, Indiana, has a single, needle-like spire that rises up from the center of a wide hexagonal structure.
Concordia Theological Seminary in Fort Wayne, Indiana, has a high-pitched, tent-like triangular chapel that lets in extraordinary amounts of light, with a spire behind the chapel and a large curved lake with fountain in front of it.
Yale Hockey Rink, which has a very dramatically curved roof, sort of reminiscent of a skate blade except curvier, and a long bank of windows and doors beneath. Seen from above, it looks sort of like the shell of some prehistoric animal.

In addition to buildings, he also created many furniture designs (apparently lots of architects have designed furniture), primarily for Knoll International. Many of his furniture designs continue to be sold today:
In 1956, he made the Tulip Chair, the white fiberglass and aluminum chair with the pedestal instead of legs (he said that other chairs suffered from a "slum of legs"). I always associated the Tulip Chair with the 70's, but apparently it comes from the 50's.
He also made the Womb Chair in 1948, of molded fiberglass and designed so that you could curl up in it.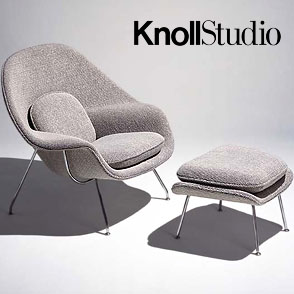 In 1946, he made the Grasshopper Chair, named because it sort of looks like a grasshopper's big bent legs. It is made of bent plywood with an upholstered seat.
He is perhaps best known for his TWA Terminal, which was completed in 1962. However, Saarinen died of a brain tumor in Ann Arbor, Michigan a year previously, in 1961. He was 51 years old.

Sources
Scandinavian Design, Eero Saarinen
Great Buildings Online, Eero Saarinen
Galinsky, architects, Eero Saarinen
National Park Service, Arch History & Architectural Information, Eero Saarinen - Architect With a Vision
R 20th Century, Eero Saarinen
Finnish Cultural Institute in New York, Eero Saarinen: Realizing American Utopia