A faithful Daily Apple reader asked
a while back
if I would do an entry on Emma Goldman. I have a somewhat hazy memory for names of famous people, especially actors, and I at first confused this person's name with Emma Watson, the actress who plays Hermione Granger in the Harry Potter movies. I am ashamed to admit this because I now know that Emma Goldman is
not
Emma Watson. Regardless, a few days ago, I came across a mention elsewhere of Emma Goldman, which indicated that she was an anarchist. I agreed with my Daily Apple reader that it would be interesting to learn more, so here we are.
Photo of Emma Goldman, sometime around 1910. She was once called "the most dangerous woman in America" and "the world's most dangerous woman."
(Photo from Flag.blackened.net's Anarchist Images)


Emma Goldman was born in in Lithuania in 1869, four years after the U.S. Civil War ended. She died in 1940, just as World War II was beginning, at the age of 70.
She is remembered as an anarchist and an advocate for free speech, birth control, and the rights of women and of labor unions.

In 1885, she left her family's second home in St. Petersburg and settled in Rochester, New York with her sister.

Goldman became interested in pro-union and pro-strike activities after having worked in garment and corset factories, and especially after seven anarchists were executed following the deadly Haymarket riot in Chicago.
In 1892, a friend of hers shot and stabbed Andrew Carnegie's steel manager. The manager survived the attack and Goldman's friend was sentenced to 22 years in prison.

After leading a march of 1,000 people to Union Square in Philadelphia and there giving a speech urging workers to help themselves to bread if they needed it, Goldman was arrested, tried, and found guilty of inciting a riot. She spent a year in the New York penitentiary. The day after she was released, she published an account of her experiences in prison.
Her mug shot taken in Philadelphia in 1893
(Photo from Wellesley's

Women's Review of Books

, April 2003)
She went to Vienna where she was formally trained in nursing and midwifery.
The man who shot President McKinley in 1901 said the last public speaker he heard before he committed his crime was Emma Goldman. She was arrested and held without bail, but released two weeks later. The man who shot McKinley was executed.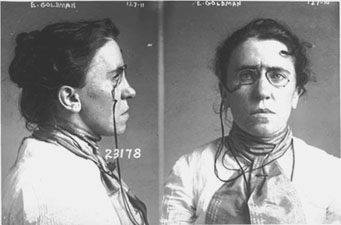 Possibly another mug shot of Emma Goldman, taken in 1901.
(Photo from the Anarchy Archives)
She began speaking about the right of free speech after Congress passed an Immigration Act which included a ban on anarchists.
A soldier in the US Army was photographed shaking her hand after one of her speeches and was subsequently court martialed, dishonorably discharged, and served three years' hard labor on Alcatraz.
She also lectured on drama and major plays of the day, including works by Ibsen, Strindberg, Shaw, and Chekov.
She founded

Mother Earth

magazine in 1906 and continued its publication through 1917, when she was imprisoned and the magazine seized (more on that later). Its pages included essays and poems by such notables as Leo Tolstoy, Friedrich Nietzsche, Oscar Wilde, Maxim Gorki, and Walt Whitman.

She was arrested and fined several times for making speeches and handing out literature on birth control.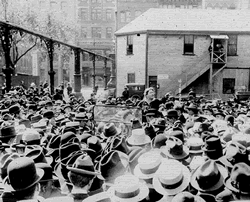 Photo of Goldman speaking to garment workers about birth control in 1916
(Photo from Eilat Gordin Levitan's page on Emma Goldman)
In 1917, the US entered World War I. A month after Congress and the President instituted the draft, Goldman spoke against conscription. A law was subsequently passed that allowed for the imprisonment of people who interfered with the draft, and she was arrested and found guilty of conspiracy. She was sentenced to two years in a federal penitentiary in Missouri.
After she was released from prison, she was deported back to Russia.
She was at first welcomed by the Bolsheviks who had successfully overthrown the tsarist rulers in Russia. But once she had toured various prisons and spent time with the Bolsheviks, she was irritated by their practices and appalled by the executions they had carried out.
She returned to the US after two years and upon her arrival, published two works that exposed both her disillusionment with the Bolsheviks and the economic and political climate that she witnessed.
To earn money, she lectured more frequently on drama. She married a Welsh pro-union friend in order to obtain British citizenship and travel more easily. She moved to St. Tropez off the coast of France and wrote several essays and her autobiography.
Following the stock market crash and the onset of the Depression, public opinion toward her changed. Journalist H.L. Mencken appealed for her to be allowed to return to the US. Knopf publishing house agreed to publish her autobiography, in spite of the difficult economic climate. When she returned to the US in 1934, she was mobbed by reporters and photographers.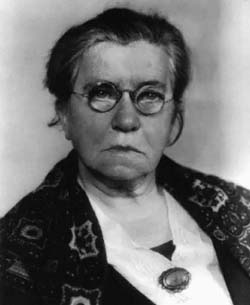 This photo was used as the front piece in her autobiography,

Living My Life


(Photo from the Anarchy Archives)
Though the US now wanted her back, she remained abroad in Europe, living in London, where she spoke out against Stalin, which earned her the scorn of Communists, and in Barcelona, where she spoke on behalf of anarchists fighting in the Spanish Civil War.
She died in Toronto, but she is buried in Chicago, near a memorial to the tragic strike in Haymarket Square.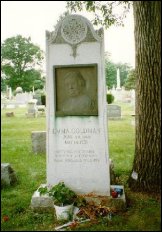 Emma Goldman's grave in Chicago's Waldheim cemetery
(Photo from Ammanford, Wales' page on Emma Goldman)
Here are some of her thoughts:

On prisons: " With all our boasted reforms, our great social changes, and our far-reaching discoveries, human beings continue to be sent to the worst of hells, wherein they are outraged, degraded, and tortured, that society may be 'protected' from the phantoms of its own making."
On patriotism: "Patriotism assumes that our globe is divided into little spots, each one surrounded by an iron gate. Those who have had the fortune of being born on some particular spot, consider themselves better, nobler, grander, more intelligent than the living beings inhabiting any other spot. It is, therefore, the duty of everyone living on that chosen spot to fight, kill, and die in the attempt to impose his superiority upon all the others."
On marriage: "I believe that when two people love each other that no judge, minister, or court, or body of people, have anything to do with it. They themselves are the ones to determine the relations which they shall hold with one another."
On Puritanism: "With Puritanism as the constant check upon American life, neither truth nor sincerity is possible. Nothing but gloom and mediocrity to dictate human conduct, curtail natural expression, and stifle our best impulses. Puritanism . . . repudiates; but being absolutely ignorant as to the real functions of human emotions, Puritanism is itself the creator of the most unspeakable vices."
When asked what she did with the money she earned from sewing: "Spent it all on books."

Sources
PBS, American Experience, Timeline: Anarchism and Emma Goldman
University of California at Berkeley Digital Library, The Emma Goldman Papers and Bibliographical Essay
Interviews and Essays available through UC Berkeley's site, including:
Nelly Bly Interview with Emma Goldman, interview in

New York World

, September 17, 1893
What Is There in Anarchy for Woman? interview in the

St. Louis Post-Dispatch Sunday Magazine

, October 24, 1897
Patriotism: A Menace to Liberty
The Hypocrisy of Puritanism