This past week, I've been thinking about the fire department. It started this way: I was smashing up some garlic to put in my tomato sauce, when I heard a fire engine siren outside. My house seems to be located on some fire department thoroughfare because fire engines drive past all the time. But on this particular day, I thought, "There's a fire somewhere, and they're already on their way to take care of it." I was able go on smashing up my garlic and know that somebody was putting out a fire for somebody else.
Let me put it another way. Back in the day, if somebody's house caught on fire, everybody in the neighborhood would run to it and try to put it out. A lot of times, despite the neighbors' best efforts, they weren't successful. They couldn't round up enough water or people to combat the flames. People didn't know the best places to pour the water. And most likely, they didn't know how to go into the burning building and drag out someone who was trapped in there.
Detail from the Hand-in-Hand Fire Company brochure, which was given to residents of Colonial Williamsburg to reassure them that this particular fire company would do a good job. Those guys are using a very early pump which I think is supposed to get water to go up the tube and out the horn, into the window where the flames are escaping. But is the seat of the fire really in that window? And all those guys holding hands with buckets are standing still. Is anyone off getting more water? And how far do they have to carry it? All questions that could mean life or death.
(Image from Colonial Williamsburg Teacher Resources)
Now, we have this totally advanced system where somebody sees a fire, calls 911, and people who are trained in putting out fires are sent to that location as fast as possible. These experts put their lives at risk, spray enormous quantities of water and other fire retardant materials as appropriate onto the fire, they rescue people from burning buildings, and they put out the fire. I mean, these people are saving lives (as well as property), and we have it down to such a system that it's almost routine.
Firefighters on ladder 175 in Brooklyn assist a woman down the aerial from her apartment on the 3rd floor. The fire is on the 2nd floor.
(Photo by Britton Crosby)
I know there was a lot of admiration for fire fighters immediately following September 11, 2001, and I fully agree that those fire fighters demonstrated their heroism magnificently. But it has occurred to me, perhaps all over again, that our method as communities of responding to fires is so quotidian and yet it is also quite marvelous.
Here are some facts about fire fighters and what they do.
(Photo from firetactics.com, sourced from Kortney's blog about life in emergency services)
About every 19 seconds, somewhere in the United States, a fire department is responding to a fire.
As of 2006, 1.1 million people worked as firefighters in the U.S.
Only 28% of those firefighters held those positions as careers -- they are paid, full-time firefighters. They tend to work in departments that protect 25,000 or more people.
72% of U.S. firefighters are volunteers.
These fire fighters in Olivia, Minnesota, are all volunteers.
(Photo from the website of the City of Olivia, Corn Capital of the World)
Most of the fire departments staffed with volunteers are in small or rural areas and protect fewer than 25,000 people.
About 4% of firefighters are women, 9% are black, and 7% are Latino or Hispanic.
Regardless of the time of day or season or region, fire departments typically arrive at the scene of a fire within 5 to 11 minutes.

In 2006, fire departments across the country responded to a total of 24.4 million calls.
Over 15 million of those calls were for emergency medical aid.
2.1 million of those calls were false alarms. Those included "mischievous false calls," unintentional calls, bomb scares, and fire alarm system malfunctions.
1.6 million calls were for actual fires.
Fire truck driving through smoke in the Santa Monica Mountains in October 2007.
(AP Photo by Reed Saxon)
Looking at responses to fires only, most calls for firefighters occur between 3 and 6 p.m. and they are most often called to structures as opposed to outside locations or to vehicles.

In 2007, 102 firefighters died while on the job.

The number of firefighter deaths has been very slowly declining since the 1970s (excepting the 340 firefighter deaths at the World Trade Center).
The majority of injury-related deaths and non-fatal injuries that firefighters sustain are due to overexertion or stress.

The majority of firefighter deaths are due to sudden cardiac arrest. In other words, this job exacts a heavy toll.
(Photo from A Firefighting Career)
The deadliest fires in US history, resulting in the highest number of firefighter deaths are:
World Trade Center in New York City on 9-11-2001, when 340 firefighters died.
A wildland fire known as Devil's Broom in Silverton, Idaho, in 1910 when 86 firefighters died.
Another wildland fire in Griffith's Park in Los Angeles in 1933 when 29 firefighters died.
Fighting the wildfires in California in 2007, at Palomar Mountain
(Photo by Wally Skalij, sourced from The New Jew)
Other than the World Trade Center, there have been very few high-casualty fires in the past decade. The most recent high-casualty fire was in 2007 in Charleston, South Carolina, at the Super Sofa Store and warehouse.
Fire at the Super Sofa Store engulfing the store and the warehouse.
(Photo from the Charleston Post and Courier)
Chief Rusty Thomas directing his firefighters to combat the fire.
(Photo from the Charleston Post and Courier)
An employee was trapped in the building, and by relaying his location to the firefighters by telephone and by pounding on the wall, they located him, cut an opening in the metal skin of the building's exterior, and removed him from the building.
Meanwhile, other firefighters went into the building with hoses, looking for the "seat" of the fire. The following is from the National Fire Protection Association's official account:
While suppression efforts were underway, the fire grew rapidly and began spreading from the center of the building, through the showroom and eventually toward the front entrance. This rapid fire spread was followed quickly by structural collapses within the showroom areas. The combination of the fire spread and the collapses trapped firefighters within the showroom portion of the building, killing nine.
After the fire is out, firefighters are still waiting to hear about their co-workers who are missing.
(Photo from the Charleston Post and Courier)
The earthquake and fire in San Francisco in 1906 is considered the second-largest fire loss US history. In this reckoning, they calculate loss in terms of dollars of property damage.

Here's how the top three fire losses break down:
World Trade Center, $33.4 billion in 2001, adjusted for 2007 $39.2 billion
San Francisco earthquake & fire, $350 million in 1906, adjusted for 2007 $8.0 billion
Great Chicago Fire, $160 million in 1871, adjusted for 2007 $2.9 billion

Most of the calls firefighters get are for fires at residences, like this one in Maryland. All the occupants got out safely, none of the firefighters was hurt, and though the house sustained a lot of damage, the fire was put out. The person who took this photo remarked that the event didn't even make the local news.
(Photo by Obinna)
Okay, so that's all the bad stuff about fires. But what about the number of lives saved? The number of people rescued from burning buildings or smashed cars? The number of injured people rushed to the hospital in time to receive medical attention? Apparently, nobody keeps track of the
good
things that firefighters do. They keep track of the number of people who die or are injured and how those deaths and injuries happen, so that they can figure out how to reduce those deaths and injuries. But I sure do wish somebody would keep track of the number of lives firefighters
save
.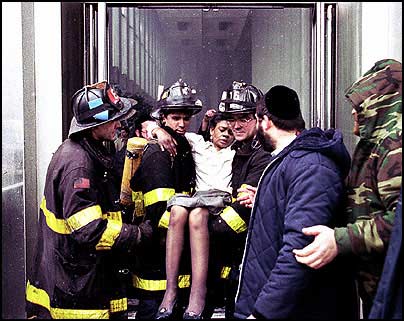 Firefighters rescuing a woman injured in the first World Trade Center attack in 1993
(Photo from Daniel Sheehan's site about the WTC Bombings 1993)
The best I could find on this score is that in 2004, of all the runs (responses) that firefighters made to fires, about 26% of the time they provided aid to people at the scene. The report where I found this doesn't get at all specific about what "aid" means, but I think it mainly means medical attention but is not limited to that.
In about 74% of those fires in 2004, no aid was provided. That usually means that the extra aid was not necessary, but it could also mean that aid was refused.
Firefighters rescue a 73 year-old woman trapped in her car in Bayonne, New Jersey. It took them 20 minutes to extract her. Her only injury was pain in her left leg.
(Photo by Chief Rogers, sourced from Bayonne, New Jersey Local News)
Finally, here is the Fireman's Prayer. For those 4% of firefighters who are women, I hope somebody writes an updated, gender-neutral version.
When I am called to duty, God, whenever flames may rage;
Give me strength to save some life, whatever be its age.
Help me embrace a little child before it is too late
Or save an older person from the horror of that fate.
Enable me to be alert and hear the weakest shout,
And quickly and efficiently to put the fire out.
I want to fill my calling and to give the best in me,
To guard my every neighbor and protect his property.
And if, according to my fate, I am to lose my life;
Please bless with your protecting hand my children and my wife.
The point is, firefighters are there to help. And they do.
Firefighters train by saving each other.
(Photo from Susan Kuklin's blog)
Sources
National Fire Protection Association, The U.S. Fire Service, FAQ/Facts and Lore, and various reports
US Fire Administration, Structure Fire Response Times
National Fire Protection Association, Firefighter Fatalities in the United States -- 2007
National Fire Protection Association, Fire Department Calls and False Alarms, April 2008
US Fire Administration, Fire Department Fire Run Profile, December 2007