One of my co-workers and I sometimes laugh about those old words for a woman of easy virtue. Hussy, hoyden, trollop. Even that phrase I just used, "woman of easy virtue," she and I have laughed about that, too.
After one of these silly sessions, I started thinking about all the different words there are for women who have lots of sexual partners and are therefore considered to be immoral. There sure are a lot of such words. I got to thinking about the word "slut" and how similar it looks to other words, and I wondered where it came from.
A Victorian era slut.
(Photo from The Heliograph)
So when I got home, I looked up "slut" in the
Online Etymology Dictionary
. Then I looked up all those other words too, and I noticed a pattern which surprised me. I double-checked in my
Oxford English Dictionary
because sometimes those two sources disagree. The
OED
doesn't always deal with slang, but for the words which the
OED
offered an etymology and a definition, it agreed very closely with the Online Etymology Dictionary.
Here's what I discovered: most of those insulting words started out meaning something relatively benign. Sometimes they didn't even necessarily refer to
women
at all at first, let alone any particular kind of woman. Only after the passage of many years, sometimes as long as a few centuries, did they take on the pejorative meaning.
The etymologies don't say this, but it is interesting to think about how the evolution might have taken place, or the assumptions lurking behind the shift in definitions. A woman dresses sloppily and so therefore she must be a whore. A woman is a kitchen maid and so therefore she must be . . . you follow my drift.
WORDS THAT STARTED OUT NOT SO BAD
slut
- originally, a slovenly woman. Didn't suggest anything about her morals or sexual behavior, only that she was sloppily dressed. In some usages, it meant "kitchen maid or drudge." Chaucer even used the word
sluttish
in the 1300s to refer to an untidy man. Samuel Pepys used it innocuously to say of his daughter Susan, "[she] is a most admirable slut and pleases us mightily." But in spite of Pepys, the word had already begun taking on negative connotations relatively early in its existence (about 50-100 years after its first documented usage) and by the 1860s it was pretty much entrenched in turpitude.
On this postcard -- yes, people mailed this to each other -- both meanings of "slut" apply, sort of: she was poor and ragged in her dress and she was also being used by her uncle.
(Image from Uncle Eddie's Theory Corner)
trollop
- also originally a slovenly woman. Probably came from the verb "to troll," meaning to roll about or wallow, as in mud. Another meaning referred to anything dangling untidily, including loose clothing worn by -- you guessed it -- loose women.
hussy
- originally, housewife. Sometimes even a thrifty housewife. Then it was expanded to mean any woman or girl, married or not. It was also used as a "playfully rude" way of addressing a woman. But then the playfulness began to disappear. By 1650 it had also become a serious way to indicate a woman of loose morals, and by the 19th century it had shed all the innocuous meanings entirely and retained only the derogatory one.
harlot
- originally, vagabond, tramp, or camp follower. Also applied to traveling entertainers like jugglers, jesters, and later, actors. Sometimes a villain, glutton, or fornicator -- but he was male. For 200 years, from the 13th through the 15th century, a harlot was a man. But by the 16th century the word was frequently used in Bible translations and nearly always in reference to a woman -- one who was not a juggler or an entertainer, but a prostitute.
tramp
- originally, to walk heavily, to stamp. Then it came to indicate a wanderer or vagabond, or one who tramps. It also referred to people, often women, who stomped on things like straw or wash clothes to press out the water. Didn't take on the meaning of a promiscuous woman until 1922.
hoyden
- from the late 1500s, probably from a Dutch word that means rustic, uncivilized man, a boor; or a heathen. Didn't develop a negative connotation about women until the 1670s. Then she was only noisy or rowdy at first.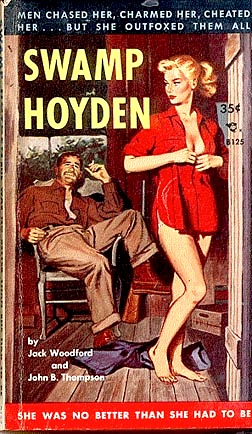 I would have guessed that people stopped using "hoyden" maybe a century ago, but this book was published in 1951, so it's still kicking a little.
(Image from Good Girl Art)
hooker
- originally in England, referred to thieves who stole things using hooks. Sometimes they stole watches, sometimes they used great long hooks to reach in through a window to snatch the sheets off the bed. For a while in 1863 it referred to the men who formed General Hooker's Army of the Potomac during the Civil War. General Hooker himself had a fondness for gambling and alcohol and women, and his headquarters were considered a cross between a bar and a brothel. But in general, the sense of
hooker
as a prostitute most likely originates from the idea that prostitutes ensnare or "hook" their customers.
bimbo
- from the Italian word
bambino
meaning baby, it referred first to a fellow or a chap, then a stupid man, then an inconsequential and contemptible man. In the 1920s the word was used by a journalist at
Variety
magazine to refer to a pretty but stupid, flighty woman of easy virtue. It became popular again in the US in the 1980s. Some current definitions say that not only is the woman pretty but stupid; she may also be the mistress of an older wealthy man.
tart
- originally an endearment, a shortened form of "sweetheart." Or it could be derived from "jam-tart," which was 19th century British slang for an attractive woman. Attractive, you'll note, but not necessarily whorish.
broad
- originally, a woman who is broad in the hips, or it might have come from the word
abroadwife
which referred to a woman away from her husband, who has typically been taken into slavery. So the number of sexual partners would not be of her choosing but apparently that didn't matter. There was also the sense of
broad
which meant plain-spoken speech, sometimes to the point of coarseness or lewdness. By 1911, the slang usage of
broad
generally suggested a coarse, low-class woman.
WORDS THAT HAVE ALWAYS MEANT "WHORE"
whore
- adulterer. This is the big one, and it pretty much has always meant prostitute. But it may have come from a Sanskrit word
qar
or
Kama
, which means love, or the god of love. That word became
carus
in Latin, which means "dear" or "friend." But there was a whole other branch of Germanic words that descended from
qar
and those
meant adulterer or fornicator.
prostitute
- literally "placed in front" or publicly exposed. Originally,
prostitute
referred to a woman who had been sold into slavery and was then used for sex. So she was known by her sexual behavior, but that behavior wasn't of her own volition.
courtesan
- dates back to the mid-1500s. From the Italian
cortigiana
, which means woman of the court. She's somehow attached to the sovereign rulers of a place. But apparently her attachment is only as a prostitute because that meaning is given at the same time and in the same sentence as "woman of the court."
strumpet
- its origin is not certain but it may be related to a Latin verb
stuprare
that means "to have illicit relations with." Or it could be from a Middle Dutch word
strompe,
which means "stocking," as in the stockings that prostitutes wore. Another possible connection is that it could have come from the verb "to strum," which was once upon a time defined as having carnal knowledge of a woman or else playing a harpsichord or other stringed instrument badly. So according to that possible etymology, not only was the man strumming the woman, he also seems to have been doing it badly.
floozie
- has always meant a woman of disreputable character. Born around 1902, perhaps derived from
flossy
, meaning fancy or frilly.
vamp
- short for
vampire
(which word, by the way, can be traced back to a Tatar word that means "witch").
Vamp
was born around 1911 in conjunction with a play and movie called
A Fool There Was
which featured Theda Bara, who was the Marilyn Monroe of her day, playing a very sultry woman known in the play as The Vampire.
Theda Bara as The Vampire. She's less creepy and more seductive in her role as Cleopatra, but the word

vamp

stuck and

Cleo

did not.
(Photos from Vampire Junction)
There are all sorts of other meanings for
vamp,
including the part of a shoe or sock that covers the body of the foot; or in the verb form, to patch together, to ad lib or improvise, or to walk the streets. You can see how there might be connections between those meanings and the idea of a seductress, but apparently the slang
vamp
comes only from
vampire
and has nothing to do with those other kinds of vamps
.
piece, or piece of ass
- surprisingly, dates all the way back to 1785. Not indicative of any gender in particular, but refers to anyone available for a fixed amount.
So what's my point? Beyond sharing this observation with you, I'm not sure, exactly. The only comparable slang I could think of for slutty men was "stud," and that's not very derogatory. Over time, will that get turned into an insult for women too? Or is it possible that we English speakers are turning fewer words into synonyms for "whore"? Hard to tell.
Either way, we can choose where our language goes. It's not as if our words emerge out of the mist of some mysterious Delphic pit in the earth. We're the ones who make up our words and decide what they mean. If we want a lot of words that insult women on the basis of their sexuality, then I guess that's what we'll have.
Sources
My copy of the Oxford English Dictionary
Online Etymology Dictionary, bimbo
Oxford Dictionary of Phrase and Fable, bimbo
OneLook, bimbo
Online Etymology Dictionary, broad
Online Etymology Dictionary, courtesan
Online Etymology Dictionary, floozie
Online Etymology Dictionary, harlot
Online Etymology Dictionary, hooker
Jonathan Dunder, Free Information Society, Hooker, Joseph
Online Etymology Dictionary, hoyden
Online Etymology Dictionary, hussy
Online Etymology Dictionary, piece
Online Etymology Dictionary, slut
Online Etymology Dictionary, strumpet
Online Etymology Dictionary, tart
Online Etymology Dictionary, tramp
Online Etymology Dictionary, trollop
Online Etymology Dictionary, vamp, vampire
Online Etymology Dictionary, whore