Christmas is only seven days away. On this blog, that's practically tomorrow. So an entry on "'Twas the Night Before Christmas" seems appropriate.
Here it is read by Perry Como, with illustrations by Florence Sarah Winship from a children's book published by Whiteman Publishing in 1958.
Our conception of Santa Claus as driving a sleigh pulled by reindeer originated with this poem.
Santa's appearance as a fat, pipe-smoking elf was solidified in our imagination with this poem, too, but that depiction first appeared in Washington Irving's Knickerbocker's History of New York. That's significant, for reasons you'll see later on.

This poem, now attributed to Clement Clarke Moore, was originally published in the Troy Sentinel 1823 with the title "A Visit from St. Nicholas" by Anonymous. It was very common at that time for poems to be published without an author's name, but recently, this poem's authorship became a bone of contention.
Clement Clarke Moore: theologian, scholar, poet.
(Image of an 1840 engraving from the Poetry Foundation)
Clement Moore was a religious and classical scholar. He translated the poems of Juvenal, constructed a Hebrew dictionary--the first of its kind in the very early United States--wrote political treatises, wrote letters to his local newspaper's editor, published lots of scholarly papers about classical Greek literature, and was generally a learned and highly respected man.
He also published a book of poems. This book was not published until 1844, when he was 65, and he did so grudgingly, at his children's request. One of the poems in the book is "A Visit from St. Nicholas."
Since that book's publication, Moore has been widely considered to be that poem's original author.
However, in the meantime, the family and descendants of a certain Henry Livingston, Jr. have maintained that Moore was not the original author, Livingston was.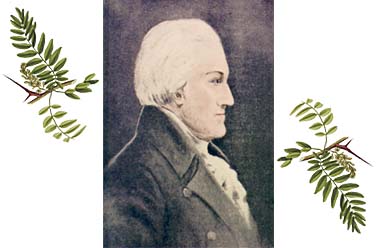 Major Henry Livingston, Jr., reputed author of "A Visit"
(Image from Mary Van Deusen's genealogical site on the Livingstons)
Major Livingston fought in the Revolutionary War, after which he became a farmer and surveyor and justice of the peace in Poughkeepsie. He was also a lover of classical literature and he wrote several poems, publishing them often anonymously except for the pseudonym initial "R." His poems were witty, humorous, and often written for children.
Livingston's family didn't know that Moore had taken credit for "A Visit" until they saw Moore's book of poems in 1860. By this time, Henry Livingston had died, so Livingston wasn't available to say whether that was his poem or not. But the family maintained among themselves that Moore took false credit for the poem.
Seven generations later, one of Livingston's descendants, Mary Van Deusen came along. She had grown up hearing that Livingston was the poem's true author, and she found out about a guy named Don Foster who claimed to be a literary sleuth. Remember that book Primary Colors, written by Anonymous, which was a barely-fictional account of Bill Clinton's campaign for the 1992 Presidency? Well, Foster is the one who figured out the book's true author (Joe Klein). She thought, hey, maybe this Foster guy can establish for certain whether Livingston is the true author of "A Visit."
Donald Foster, "literary sleuth" and English professor at Vassar
(Photo from Vassar College)
By this time, Foster was pretty famous. People were contacting him left and right asking for help with this sort of thing. Because in addition to the Primary Colors thing, he also found a little-known poem called "Funeral Elegy" and demonstrated that Shakespeare was its true author. That got all sorts of people all excited -- a new poem by Shakespeare?! Wonderful! -- so Foster was very much in demand. In fact, he complains about how much in demand he was in his book. But he decided to take up Mary Van Deusen's case.
He wound up writing a book called Author Unknown in which he details his method of proving authorship of all sorts of disputed works. Basically, he looks at patterns of word choice, rhythm, grammatical patterns and so on. He says these kinds of language choices are as distinctive as a fingerprint and once you know a person's language style, you can identify their work whether there's a name on it or not.
One chapter in his book is about "A Visit." In this chapter he says with absolute certainty that Clement Moore is not the author of "A Visit," and that Major Henry Livingston is.
How convenient, Foster said, that Clement Moore waited until after Livingston died to step forward and say that he had written this poem. This wouldn't be the first time Moore had plagiarized, Foster said. Moore once upon a time donated a manual about sheep farming to a nearby library. He wrote on the inside cover that he had translated it from the French. But in very small print inside is a note that someone else was the manual's sole translator.
In fact, Foster said, Moore was a cranky old classics scholar who hated children. Never mind that he had nine children of his own, he wrote all sorts of poems that were all about scolding naughty children. And besides, the other poems he wrote had completely different meters and styles than "A Visit."
"A Visit" is written in anapestic tetrameter. That means each line has four (tetra) big beats per line, and each one of those four stressed syllables is preceded by two unstressed syllables (anapest): da-da-DUM, da-da-DUM, da-da-DUM. the CHILdren were NESTled all SNUG in their BEDS.
Foster said that the only other poem Moore wrote using an anapest meter was "The Pig and the Rooster," and that was a finger-wagging poem about how bad it is to be lazy and arrogant. Nothing like the fun-loving St. Nick in there.
By contrast, Livingston's poems are bawdy, full of fairies and elves and talking animals and various imaginative and fantastic creatures. He uses the word "all" a lot in his other poems too, just as "A Visit" says "all snug in their beds." He also uses the phrase "Happy Christmas" in other poems where pretty much everyone else says "Merry Christmas."
In short, Foster said, Moore was far too cranky and mean ever to have written "A Visit," while Livingston had practically written it several times over in other poems of his.
Well. It turns out that Foster was pretty much full of it.
That Shakespeare poem he apparently discovered? Turns out Shakespeare didn't write it after all. Other scholars elsewhere have definitively proven that some other guy, John Ford, wrote it. Foster had also gotten involved in trying to identify the author of the note left behind in the JonBenet Ramsey case and accused someone who had already been cleared by the police, someone who could not possibly have committed the crime.
Foster's claims about "A Visit," too, turn out not to hold much water.
A dealer in antique documents who is used to proving provenance and authorship, Seth Kaller, was the first one to say that Foster's theories are hogwash. He said Foster "cherry-picked" which poems and documents to consider. Anything that didn't agree with his theories, he ignored.
Seth Kaller, dealer in antique documents, rare stamps, and coins, and champion of Clement Clarke Moore.
(Photo from Seth Kaller Inc)
Moore was a stodgy child-hater? Not so, Kaller says. Look at this poem he wrote for his granddaughter: "The house is all too dull and quiet;/ I long to hear you romp and riot/ When e'er you're full of harmless fun,/I dearly love to see you run."
Moore was a bah-humbug Christmas hater? Not so, says Kaller. The Museum of the City of New York has a copy of a letter Moore wrote, in poem form, to Santa Claus the year before "A Visit" was published.
In fact, Moore was friends with Washington Irving (remember that bit about the Knickerbocker Christmas? I told you that would be important). Both Moore and Irving were members of the Knickerbocker Group. Irving was perhaps the original Knickerbocker, which meant he was a Dutch New Yorker, and he wrote and published all sorts of humorous, satirical stories about early Dutch New York.
Besides publishing stories, one of the things the Knickerbockers did was to make St. Nicholas the patron saint of the New York Historical Society.
Thomas Nast's engravings of Santa Claus, like this one, were influenced by 'Twas the Night before Christmas, which he asked his wife to read aloud to him.
(Image from Musings of a Sea Witch)
Oh, and that manual that Moore donated to the library and supposedly claimed to have translated himself? The so-called incriminating note at the beginning was in someone else's handwriting, not Moore's, and it awkwardly meant to indicate the fact that the book was donated by Moore, not translated by him.
Other historians besides Kaller picked up the case as well, demonstrating with still other letters and documents and historical timelines that, first of all, the anecdotal stories that filtered down through the generations about Henry Livingston were factually incorrect on several points (various people had died before thus & so was said to have happened, for example).
Second of all, the literary analysis they conducted showed that Moore's writing was influenced by Irving's, that a playfulness and joy pervaded other poems of his, that he used the phrase "Happy Christmas" in a poem that Foster conveniently ignored, etc., etc., and so in sum, Clement Moore should be officially reinstated as the author of "A Visit," now known as "'Twas the Night Before Christmas."
OK. So why did I bring all that up? If Clement Moore was and still is considered the poem's true author, isn't all of the above just a tempest in a teapot? Well, as one person put it elsewhere, "the Internet never forgets." There are sites out there that still say that Henry Livingston may be the poem's author.
Maybe, Poetry Foundation, it's time to correct that?
Here is the poem in its entirety:
Twas the night before Christmas, when all through the house
Not a creature was stirring, not even a mouse.
The stockings were hung by the chimney with care,
In hopes that St. Nicholas soon would be there.
The children were nestled all snug in their beds,
While visions of
sugar-plums
danced in their heads.
And mamma in her 'kerchief, and I in my cap,
Had just settled our brains for a long winter's nap.
When out on the lawn there arose such a clatter,
I sprang from the bed to see what was the matter.
Away to the window I flew like a flash,
Tore open the shutters and threw up the sash.
The moon on the breast of the new-fallen snow
Gave the luster of mid-day to objects below.
When, what to my wondering eyes should appear,
But a miniature sleigh, and eight tinny reindeer.
With a little old driver, so lively and quick,
I knew in a moment it must be St Nick.
More rapid than eagles his coursers they came,
And he whistled, and shouted, and called them by name!
"Now Dasher! now, Dancer! now, Prancer and Vixen!
On, Comet! On, Cupid! on, on Donner and Blitzen!
To the top of the porch! to the top of the wall!
Now dash away! Dash away! Dash away all!"
As dry leaves that before the wild hurricane fly,
When they meet with an obstacle, mount to the sky.
So up to the house-top the coursers they flew,
With the sleigh full of Toys, and St Nicholas too.
And then, in a twinkling, I heard on the roof
The prancing and pawing of each little hoof.
As I drew in my head, and was turning around,
Down the chimney St Nicholas came with a bound.
He was dressed all in fur, from his head to his foot,
And his clothes were all tarnished with ashes and soot.
A bundle of Toys he had flung on his back,
And he looked like a peddler, just opening his pack.
His eyes-how they twinkled! his dimples how merry!
His cheeks were like roses, his nose like a cherry!
His droll little mouth was drawn up like a bow,
And the beard of his chin was as white as the snow.
The stump of a pipe he held tight in his teeth,
And the smoke it encircled his head like a wreath.
He had a broad face and a little round belly,
That shook when he laughed, like a bowlful of jelly!
He was chubby and plump, a right jolly old elf,
And I laughed when I saw him, in spite of myself!
A wink of his eye and a twist of his head,
Soon gave me to know I had nothing to dread.
He spoke not a word, but went straight to his work,
And filled all the stockings, then turned with a jerk.
And laying his finger aside of his nose,
And giving a nod, up the chimney he rose!
He sprang to his sleigh, to his team gave a whistle,
And away they all flew like the down of a thistle.
But I heard him exclaim, 'ere he drove out of sight,
"Happy Christmas to all, and to all a good-night!"
Santa from 1901
(Image from Nancy Marshall's The Night Before Christmas site)
Related entries:
Santa Facts
Sources
Nancy H. Marshall, The Night Before Christmas site, biography of Clement Moore

Twas the night before Christmas Poem
David D. Kirkpatrick, Whose Jolly Old Elf Is That, Anyway? Literary Sleuth Casts Doubt on the Authorship of an Iconic Christmas Poem, The New York Times, October 26, 2000
Mary S. Van Deusen, The Livingston Branch
Reader comments on

Author Unknown: Tales of a Literary Detective


brothersjudd.com Review of Donald Foster's Author Unknown

Steve King, Today in Literature, December 23, 1823: Santa Anapests
Ted Mann, Ho, Ho, Hoax: Did Clement Moore rip off "The Night Before Christmas? Scarsdale Magazine, November 30, 2006
Michael Hill, 'Twas a Christmas poem whodunit, AP News, December 8, 2007
Seth Kaller, The Authorship of The Night before Christmas
Collaborative essay "All About 'A Visit from St. Nicholas'" by students of Paul Schacht's 2005 SUNY Geneseo class
Jennifer Ciotta, Who Wrote 'Twas the Night Before Christmas? A Literary Debate

Stephen Nissenbaum, The Battle for Christmas and comments thereon
Poetry Foundation, Clement Clarke Moore, Henry Livingston, Jr.