When I recently traveled by airplane, one of the passengers on the first leg of my trip had a very small dog with her. While we were waiting for boarding to start, she had the dog on a leash, and he was pretty docile, sniffing various things, watching me very closely as I ate my tuna sandwich. When it was time to board, she put the very small dog into a dog-carrier that had a shoulder strap. It was about the size of carry-on luggage. She also had a purse and another carry-on.
This is very similar to the dog I saw, and the carrier is similar too. Except the one I saw was pink.
(Photo from Animal Planet)
I might have thought nothing of this, but on my return trip, a different woman had her very small dog with her. It looked like a miniature Boston terrier. Again, I noticed the dog while waiting to board. She & the dog were both napping, the dog lying across her stomach like a small belt. I lost track of the two once we boarded, but after the flight when I was walking through the airport, I saw the two of them, the tiny Boston terrier now on a leash, at one of the food stores. The dog was sniffing about but otherwise waiting patiently while the woman picked out an apple.
So I had to find out. Dogs are allowed on planes? And they're allowed in airports? What are the rules about dogs and airplanes?
First of all, regardless of whether your dog travels in the cabin or in cargo, you will have to show that your pet is healthy. You'll have to get a health certificate from your vet that says your pet is healthy and will be OK to fly.
After that, the rules about taking dogs on airplanes differ, depending on where the dog will be traveling. You've got 2 options: in the cabin, or in the cargo space.
In the Cabin
This is the friendlier option of the two because this means you get to keep your dog with you. But in order to be allowed to bring your dog on board with you, many many conditions must be met.
Only very small dogs are allowed in the cabin.
The dog has to be able to fit comfortably in a carrier that measures (depending on the airline) 8-9 inches high x 12-13 inches wide x 15-23 inches long. Some airlines also require that the dog in the carrier must fit under the seat.
This soft-sided dog carrier is 9" x 10" x 15". And it's camouflage. And it's got Martha Stewart's name associated with it. All of which may be a bonus, or it may make you gag.
(Photo & carrier from PetSmart. It's currently on sale for $48)
If you've got your pet in a carrier on board, most airlines will say the carrier has to fit under the seat in front of you.
(Photo from PetRelocation)
The dog must be older than 8 weeks.
You might want to be even safer and wait until the dog has had its vaccinations, which happens at 10-12 weeks.
Some airlines say the dog + kennel can't weigh more than 20 pounds.
Some airlines say certain breeds, even if they are small enough & old enough, are not allowed to fly. Snub-nosed dogs such as pugs, shih tzus, Pekingese, and bulldogs, which already have breathing difficulties and may not handle the changes in air pressure, are often not allowed to fly. This goes for snub-nosed cats too. The Humane Society says it doesn't matter which airline, don't bring these types of animals on a plane; it's too dangerous.
If you want to bring more than one small dog with you, the airline may refuse. That is, they might let you take one, but not more than one.
Some airlines have a limit on the total number of dogs & cats on board. So your dog may meet all the criteria, but the airline could say, sorry, we've already got 5 dogs in the cabin on this flight, and we can't allow another one.
If your dog meets all these criteria, bringing your dog on board will cost you an extra $100 to $125, depending on the airline, each way. You don't have to buy an extra seat, especially since the kennel will probably have to be stowed under the seat in front of you. But you will have to pay an extra fee.
Each airline has slightly different rules, so if you do want to bring your dog in the cabin with you, check with your airline to see what they require.
Here's another type of small-dog carrier. This one is a backpack but it also has a telescoping handle and the wheels so you could tow it around like a carry-on. It measures 18.5" H x 11.5"W x 13"L. This is the Casual Canine Deluxe Backpack Pet Carrier On Wheels from Amazon. Egad, it's $73.
In Cargo
From what I've read, if you can't take your dog in the cabin, I think you're better off not bringing the dog at all. Because dogs flying cargo can encounter all sorts of problems. But first, the rules.
The pet carrier must have solid sides and it must be large enough for your dog to be able to stand up without hitting his or her head and wide enough so your dog can turn around easily.
Here's a solid-sided pet carrier that you could use for in-cargo travel. It opens at the top and at the front, and it has a handle. Water cup, dachshund, cat, and parrot not included. This Petmate Two Door Top Load 24-Inch Pet Kennel, Metallic Pearl Tan and Coffee Ground Bottom sells on Amazon for $39.
The carrier must be properly labeled with your identification and the final destination.
The carrier must have 2 plastic dishes, one with food and one with water, that attach to the inside of the carrier door. Some people put ice cubes in the water dish because they won't spill, but they will gradually melt so the animal will have water.
Some airlines also require that a small bag of food be taped to the top of the carrier -- though I don't know what that would do except drive your pet nuts with the smell of food it couldn't reach.
Some airlines also require some kind of padding in the carrier, like a blanket or a newspaper or a doggy pad.
Some people take the extra precaution of attaching a battery-powered fan to the inside of the carrier. This isn't required, but many airlines think it's a good idea.
This is a large-pet carrier, but I'm not really fond of it. There isn't a lot of ventilation. The door is a grid and there are some openings on the upper sides & back, but there's no ventilation on top, and the the lower sides are solid. This is typical of the larger-dog carriers that I saw. I don't know why they give the big dogs less ventilation. Seems like they ought to have more. This is the Remington Pet Kennel, 40-Inch for Pets 70 to 90-Pound, Beige/Remington Green. Amazon says they don't have any in stock right now, but it looks like you might be able to get it from Walmart.
"Cargo" used to mean that the pets were put in the same place with the baggage. Many newer jets now have a special area separated from the baggage compartment where animals are kept.
But the pet cargo space is still under the belly of the plane where there are no people to look after the animals during the flight, which means many problems can happen.
Someone's pit bull was in the cargo hold for a really long flight, and in that time, it chewed on its kennel trying to get out to the extent that the dog seriously injured its mouth. Who knows what would have happened if the dog had managed to get out of its kennel.
Someone else's Golden Retriever gnawed at the zip ties holding its kennel door shut, the zip ties got lodged in the dog's throat, and the dog had to be euthanized.
These 31 kennels each contain a working dog that worked for the military spotting IEDs in Iraq. They're being brought back home to the States. This situation is a little unusual, in that 31 dogs were transported on a single plane, and several dog caretakers were on hand at each stage of the 3-stop flight to make sure everything went smoothly. But imagine this on a smaller scale, and that might give you an idea of what the pet cargo area might look like on a commercial flight.
(Photo from Move One)
The pet cargo area does have ventilation and heating or cooling necessary to allow the pets to travel safely--most of the time. But conditions can get a bit dicey.
If the air temperature outside gets above 85F or below 45F, the cargo hold's ability to compensate is not as good and your pet could be at risk for becoming overheated or freezing. In fact, many airlines won't let you put your pet in the cargo hold if the weather forecast predicts temperatures above or below those limits.
But sometimes--heck, often--those forecasts are wrong, and the temperature can go higher or lower than expected, and your pet could be at risk. Some pets have died in the cargo hold for this very reason.
It's also possible that the flight could be delayed and the cargo hold could get too hot, or your pet could get dehydrated.
A member of the ground crew is supposed to put the pets into the cargo hold, but it sometimes happens that a dog busts out and gets loose on the runway. One cat escaped and was lost in the airport for more than 2 months.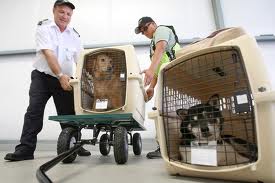 Ground crew loading dogs for flight in cargo. The dogs don't look too sure about this.
(Photo from Animal Radio)
Other things can go wrong with the cargo loading. One cat's kennel was stacked on top of another, and the one on top fell, landed on the door which broke, and the water spilled, and the cat was so severely dehydrated and malnourished by the end of the flight, it had to be euthanized.
So while there are fewer restrictions on bringing your dog along in cargo, there are also a lot more risks. In fact, most airlines require you to sign a liability waiver, meaning you won't try to sue them if your dog dies in the cargo hold. To me, that says, don't do it if you can avoid it.
OK, now I'm just enjoying these pictures of dogs in carry-on luggage, and by posting more of them, I'm totally undermining my stern warnings. This is the Snoozer Roll Around 4-in-1 Pet Carrier, Red & Black, Medium
, also available through Amazon. It currently sells for $71.
The Data
The airlines are required to report animal deaths, injuries, or losses, but their reports are pretty out of date. Some guy named Jol Silversmith who is interested in all sorts of arcane facts that must be divulged by law has been keeping track of animal incident reports on a much more current basis.
According to that data, from January to June 2013, there were 11 animal deaths, 4 animal injuries, and 2 animal losses. That's for in-cabin and in-cargo travel both. That doesn't seem like a lot, less than 1 death per month, but it doesn't say how many animals flew, so it's hard to know the percent risk of pet-death or -injury due to airplane flying.
If your pet does die during the flight, the airline will pay for a necroscopy (like an autopsy) to find out why your pet died. They report the results of the necroscopies, and that's where this data comes from.
Besides overheating or overcooling, something that seems to happen a lot is the flight worsens existing health conditions, like heart disease or kidney problems or cancer, that not even the vet knew about. These animals are smaller than we are, and their hearts and kidneys and blood vessels may not be as good at withstanding the pressure changes.
So you can take your dog (or cat or other pet) on a flight with you. It just might not be the best thing for the dog, especially if it would have to fly cargo.
The Humane Society agrees with me. "The HSUS recommends that you do not transport your pet by air unless absolutely necessary." That's their boldface, not mine.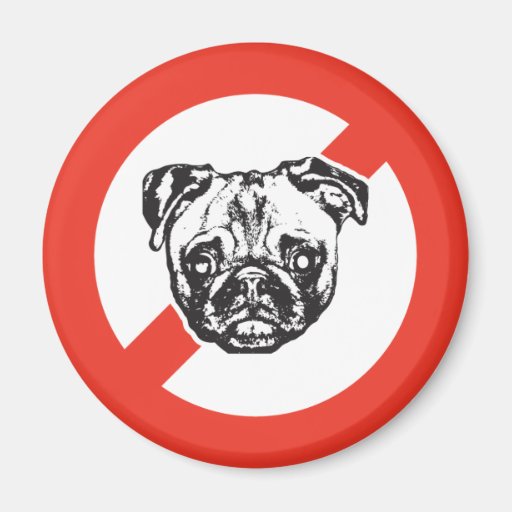 Pugs and other snub-nosed dogs especially should not fly.
(Photo and fridge magnet from Zazzle)
More Tips
If you absolutely do have to bring your dog on the plane, here are some good ideas, whether the dog is flying cargo or in-cabin:
Make sure your pet's collar can't get stuck on the carrier door.
Put your identification & contact info on the pet's collar as well as on the carrier door.
Clip your pet's nails before the flight.
Don't feed your pet 4-6 hours before the trip.
Don't give your pet tranquilizers, unless the vet says to do so, and gives you tranquilizers specifically for air travel.
Carry a photograph of your pet so if your dog does bust loose, you can show people what he or she looks like.
Start getting your pet used to the carrier at least one month before air travel. Do everything you can to make sure Mitzi is as calm & comfortable in there as possible. You do not want her freaking out in her carrier in the cargo hold and possibly injuring herself when there's no one around to help her.


I'm going to say it one more time. While it might be nice to have your dog with you when you get to wherever it is you're flying, it's probably better for the dog not to get on that airplane in the first place.
Sources
DogFriendly, The Real Scoop on Pet Air Travel in 2013
For Dummies, Traveling with Your Dog by Jet Plane
The Humane Society of the United States, Travel Safely with Your Pet by Car, Airplane, Ship, or Train
Huffington Post, Pet Deaths in Airplanes Continue, Pressuring Airlines to Change Policy, October 4, 2012
Animal Planet, 5 Tips for Taking Your Small Dog on a Plane
Mother Nature Network, Family mourns pug's death on transatlantic flight, November 16, 2011
Third Amendment, Animal Incident Reports Month by Month