Greetings, faithful Daily Apple readers! Now that our calendars have turned the page to December, I can start giving you Christmas-related posts.
Who is this Vince Guaraldi guy and how is this a Christmas-related post you ask? Hit play and within one second, you'll know.
Guaraldi the Jazz Musician
Vince Guaraldi was very much a San Francisco dude.

Born in San Francisco in 1928
Graduated from Lincoln High School in SF
Went to SF State College
He started playing jazz piano in public while he was in college.
His first real performances were at the Jackson's Nook, the hungry i, and the legendary Black Hawk (closed in 1963), all in San Francisco.
Vince Guaraldi early in his career, or at least, before he adopted the facial hair.
Any time people talk about jazz, they get all name-droppy, which always bugs me. For those of you not well-versed in multitudinous jazz musicians, suffice to say that Guaraldi played with some pretty heavy-hitters early in his career. For those of you who want the names, here are some of the guys he played with:

Sonny Criss
Bill Harris
Chubby Jackson
Art Tatum
Woody Herman's Thundering Herd
"It was more than scary," Guaraldi said of working for Art Tatum as an intermission pianist. "I came close to giving up the instrument, and I wouldn't have been the first after working with Art Tatum."
Guaraldi's early recordings include sessions with vibraphonist Carl Tjader (1953), and some other recording sessions with trios he played with at various live venues throughout San Francisco.
Among his live performances was playing piano in Carl Tjader's Quintet at the first Monterey Jazz Festival in 1958. The Quintet got a standing ovation.
One heavy-hitter in the jazz world, Jon Hendricks, said of Guaraldi:
"Vince is what you call a piano player. That's different from a pianist. A pianist can play anything you can put in front of him. A piano player can play anything BEFORE you put it in front of him."
I'm not sure when this was taken, but now we're getting into the facial hair. Perhaps it was around this time that fellow jazz musicians started to call him Dr. Funk.
(Photo from Derrick Bang's Five Cents Please)
There's one name-droppy person you need to know. Fellow San Francisco native Ralph Gleason stopped in at the clubs where Guaraldi was playing. Gleason was the music critic for the San Francisco Chronicle and one of the founders of Rolling Stone.
Gleason liked what he heard, and he was also intrigued by Guaraldi's style. He said that Guaraldi had "stubby, thick, tough little mitts" for hands. The size of his fingers meant that Guaraldi played the piano physically differently than most people:
"Vince is always pulling splinters from his fingers, driven in when he claws at the wooden baseboard, behind the keys. His fingernails are perpetually split and ragged from hitting that wood. He fingers all wrong when he makes runs and plays chords. All wrong, that is, from the standpoint of efficiency and 'piano technique.' He doesn't make the runs the way it says you should in the Czerny exercise books. He makes the runs the way it fits his stubby little hands. And if he finds shortcuts, and ways to play something with this thumb that ought to be played with his middle finger, he plays it with his thumb. But I've noticed over the years in jazz that almost all the good ones do it all wrong, because it's the sound that matters—and the sound, with Vince, is beautiful and moving."
Guaraldi's Road to Peanuts
In 1959, a French/Portuguese movie called "Black Orpheus" was released. It was a re-telling of the story of Orpheus and Eurydice, set during Carnival in Rio. (It won the 1960 Oscar for Best Foreign Film, by the way.) The film prominently featured a couple of songs in the bossa nova style, one of which was called "Samba of Orpheus."
Here's the song from the movie:
Guaraldi wrote his own arrangements of the songs from this film, in particular the "Samba of Orpheus." Here's his version. Once the piano kicks in, you will recognize his style instantly.
Guaraldi and his trio recorded the songs he adapted from the film soundtrack along with a few others, and they were released on a 1962 LP. To promote the LP, Guaraldi's producers also released a single which featured "Samba of Orpheus" on the A side. They couldn't decide what to put on the B side for the longest time, and finally they settled on a piece that Guaraldi wrote, nothing to do with that film. The B-side song they chose was a little tidbit called "Cast Your Fate to the Wind."
Don't recognize it, do you? But I bet as soon as you push play below, you will know the tune immediately.
The single was released to radio stations and it got quite a lot of play in the N California area. Some inquisitive DJs in Sacramento turned the single over and played the B side, and "Cast Your Fate to the Wind" took off.
The song won a Grammy in 1963 and audiences clamored for it. Guaraldi became something of a fixture in the San Francisco music & television scene, producing various jazz-related programs that aired on local TV stations.
It was after "Cast Your Fate" became a hit that Guaraldi began to make all sorts of recordings.
OK, so now we here we are in 1963. "Cast Your Fate to the Wind" is a hit in the San Francisco area. TV producer Lee Mendelson is in San Francisco to work on a documentary about the also-popular comic strip Peanuts, penned by Charles Schulz, who also lived in Northern California.
Mendelson was in a taxi, and "Cast Your Fate to the Wind" was playing on the taxi driver's radio. Mendelson liked the song so much, he contacted the music critic for the San Francisco Chronicle, who happened to be Ralph Gleason, who happened to have heard Guaraldi play many times and admired his dexterity with his stubby fingers.
Mendelson asked Gleason if he knew the guy who wrote that song he'd heard on the radio, and of course Gleason said he did. He set up a meeting between Mendelson and Guaraldi and the two met for lunch. Mendelson told him about the documentary and asked if Guaraldi would be willing to write music to be the background for the show.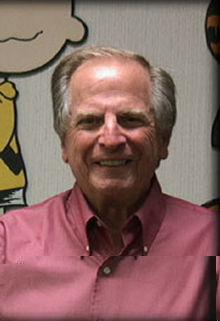 Television producer Lee Mendelson. You wouldn't take this guy to be a jazz lover, would you?
Guaraldi said he loved reading Peanuts and would be thrilled. A few days later, he called Mendelson and said he had something. He was so excited, he played the tune to him over the phone.
"I was blown away!" Mendelson said. "It simply SOUNDED like the characters in Peanuts. He finished playing and got on the phone. 'What do you think?' he asked.'"It's sensational, perfect! Do you have a name for it yet?' 'I thought we should call it "Linus and Lucy,"' he replied. Little did Vince and I know what that would mean to our futures." (from Snoopy and the Gang)
The documentary was called "A Boy Named Charlie Brown" -- not to be confused with the animated feature. The documentary was never released, never shown to the public. Mendelson couldn't get anyone to buy it.
Mendelson also made a pilot TV show about the world's worst baseball player, Charlie Brown. The pilot was rejected by all three networks, and that never went anywhere either.
Coca-Cola somehow got wind of either the pilot or the documentary, or something, but anyway they had the idea that a Charlie Brown Christmas special might go over well. They contacted Mendelson and asked if he would be interested in making that, and said that Coca-Cola would be its sponsor.
Mendelson asked Schulz to put together an idea (a.k.a. a "creative treatment"), and the next day, the two of them gave Coke a single-page, triple-spaced description of what this Peanuts Christmas special might be like. In reply, Coke sent Schulz and Mendelson this telegram:
CONFIRM SALE OF CHARLIE BROWN FOR CHRISTMAS TO COCA-COLA FOR DECEMBER BROADCAST AT YOUR TERMS WITH OPTION ON SECOND SHOW FOR NEXT SPRING. GOOD GRIEF!
When Mendelson began working on this Christmas special, he contacted Guaraldi again and asked if they could use is music for the special. Rumor has it that Schulz did not much like jazz, but he went along with what the producers wanted -- which was Guaraldi's music.
The rest, as they say, is history.
This iconic moment from A Charlie Brown Christmas would soon be in everyone's future.
Guaraldi "captured something about the lilting quality of the kids," remembers Jean Schulz, Charles' widow. "The way they walk and bounce a little bit — he captured that in his music."
Even after all the success of the multiple Peanuts specials that were made over the years, Guaraldi still performed live in Northern California, sometimes for no cover charge.
In fact, the night he died, February 6, 1976, he played a gig at Butterfield's in Menlo Park, CA. One reader of a blog about Guaraldi describes his final night this way:
"After concluding the first set at Butterfield's Nightclub in Menlo Park, California, Guaraldi and drummer Jim Zimmerman returned to the room they were staying in that weekend at the attached Red Cottage Inn, to relax before the next set. In Zimmerman's words, 'He was walking across the room and just collapsed. That was it.' His cause of death has been variously described as a heart attack and/or an aortic aneurysm. Guaraldi had just finished recording the soundtrack for It's Arbor Day, Charlie Brown earlier that afternoon."
Guaraldi had even had a check-up only a few weeks before. The doctor gave him an EKG and the results were good enough that the doctor didn't think he had any heart problems. The doctor said that the stomach problems and tiredness he was experiencing were probably ulcers.
(Album cover and album itself from All Music)
"I don't think I'm a great piano player," Guaraldi once said, "but I would like to have people like me, to play pretty tunes and reach the audience. And I hope some of those tunes will become standards. I want to write standards, not just hits."
I think he got his wish, don't you?
Coca-Cola, The Secret History of Charlie Brown's Christmas
Saber Point, Searching for Answers: the Death of Vince Guaraldi (Continually Updated)