OK, so I planned to do this entry before Christmas, but then there were cookies, and there was gift shopping, and then there had to be packing, and the Daily Apple just didn't happen. Then the vacation happened, and it seemed like the time for the Grinch had passed. But now I'm realizing that if I don't do the Grinch entry as I'd planned, I won't get back in the Daily Apple swing of things again.
So I now bring you, many days after Christmas (but wouldn't it be nice if the Christmas spirit lasted longer than just one day?) the facts behind
How the Grinch Stole Christmas
-- the TV special. Ta-da!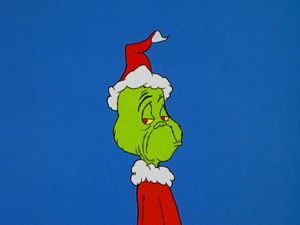 Maybe you're all like this: Christmas is over. So what. Big deal. Well, let's see what I come up with here.
(Image from Animated Views)
The guy who sings "You're a Mean One, Mr. Grinch" is Tony the Tiger.
Not only does Tony the Tiger say that Frosted Flakes are grrrrrreat, he also sings things like, "Your brain is full of spiders, and "You have termites in your smile," and "You're a nasty wasty skunk."
(Kellogg's Tony the Tiger image sourced from Delish)
Yes, Boris Karloff narrated the special, but the guy singing the Grinch song was the man who did the voice of Tony the Tiger (a.k.a. Thurl Ravenscroft).
The TV network did not credit Ravenscroft on screen, so Dr. Seuss (a.k.a. Theodore Geisel) wrote a column to be distributed to all the major newspapers making sure to give Tony the Tiger, er, Mr. Ravenscroft the credit.
From TV Guide's "close-up" mini-piece on the first airing of the Grinch in December 1966. I don't know if you can read it in this incarnation, but Thurl Ravenscroft is given credit here. (Click here for a larger version of the TV Guide Close-Up)
(Photo from Tulgey Wood)
Boris Karloff, the voice of the Grinch, said in an interview that "his chief interests are flower gardens, poetry, and the stage." Think of that the next time you see him in any one of his numerous scary movies, such as Frankenstein, Arsenic & Old Lace, Scarface, or The Ghost in the Invisible Bikini.
Boris Karloff's grandmother, by the way, was the sister of Anna who was memorialized in Anna and the King of Siam, a.k.a. The King and I.
Anna and the King. She's wondering, "Do you suppose my great-nephew will turn out to be a Grinch?" The king considers the matter, too.
(Screen shot from The King & I from The Anchor)
OK, now here's Boris Karloff for real. From L to R, Seuss, Karloff, and animator Chuck Jones looking at storyboards for the Grinch.
(Photo from chained and perfumed)
Karloff was born November 23, 1887. When the Grinch first aired on December 18, 1966, he was a month shy of his 79th birthday.
The book, as you may recall, was done in 2-color. That means black & white with the occasional use of another color, which in this case was red. The Grinch wasn't green until he got animated for TV.
One of the pages from the book. No Grinchy green. Only black, white, and touches of Christmas red.
(Image from DownloadCheapApp)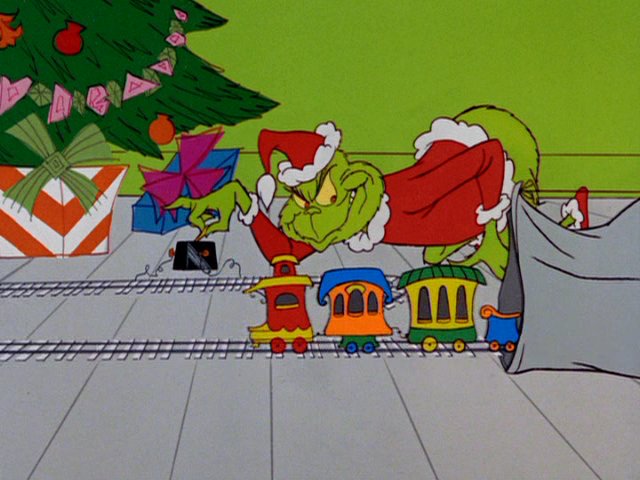 He looks much meaner here, don't you think? Such a Grinchy grin.
(Screenshot from Christmas Specials Wiki)
The song, "You're a Mean One, Mr. Grinch," is so much a part of the Grinchlore, it seems almost unthinkable that it didn't exist right along with the book. But nope. Like the Grinchy green, the song is another thing that wasn't in the book. Not at all.
Who came up with such Grinchy genius? Why, the music teacher from "Fame," of course.
Who would have thought that such a nice, friendly, supportive, caring teacher like Mr. Shorofsky could have written the song about the Grinch?
(Image from Mark Perkins on Flickr)
In real life, Albert Hague (a.k.a. Benjamin Shorofsky) composed all sorts of songs, including the scores of a couple musicals, most notably "Redhead," which won a Tony in 1979.
Also in real life, Hague was born in Berlin in 1920, and he left Germany to escape the Nazis. Anybody who grows up with the Nazis probably knows a bit about Grinches.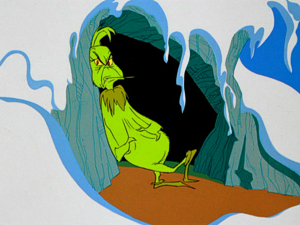 Ooh, he's Grinchy, isn't he?
(Image from Animated Views)
Following Hague's numerous successes with songs and musicals in the 60's, his agent called and told him Ted Geisel (a.k.a. Dr. Seuss) was looking for someone to write a song to go along with his Grinch book. So Hague put something together, and then he told his agent Seuss should come to his house (by this time, Hague had left Cincinnati where he'd settled after leaving Germany, and moved to California).
No, Hague's agent said, Seuss is too much of a big cheese. You go to him. "No," Hague said. "Don't make him come to my house because I'm more important; make him come here because I have the better piano." Long story short, Seuss went to Hague's house.
Hague played the song he'd written for Suess, and when he's finished singing & playing the song, "Seuss looked up and said, 'Anyone who slides an octave on the word Grinch gets the job.'"
According to IMDb, Hague also collaborated withe Seuss in writing all the other songs in the TV special:

Fahoo Foraze
Trim Up the Tree
Welcome Christmas
This moment creeps me out to no end.
(Screenshot from Jenny in Ottawa)
Oh, and the voice of Cindy Lou Who? Why, that's none other than June Foray, a.k.a. the voice of Rocky from Rocky & Bullwinkle.
She was also Natasha from the same cartoon, Wheezy & Lena Hyena from Who Framed Roger Rabbit, Jokey Smurf, and often, Granny in the post-Mel Blanc Bugs Bunny shows, to name a few others.
Here's what she has to say about the voices she's done. She mentions doing the
Grinch
"for Chuck" -- she means Chuck Jones, animator.
Why, Santy Claus, why?
(Screenshot from Seuss-ipedia)
So, now that you know all these little-known facts about our favorite Grinch, when you watch the special when it airs on TV -- er, next Christmas season -- you can say to your friends and family, "That guy singing? That's Tony the Tiger! The Grinch's great aunt is Anna from The King and I! Cindy Lou Who is also Rocky from Rocky & Bullwinkle" and astound your friends. Or bore the heck out of your children.
P.S. I couldn't let you go without a Christmas wish now, could I?
Welcome Christmas, fahoo ramus
Welcome Christmas, dahoo damus
Christmas Day will always be
Just so long as we have we
Welcome Christmas, while we stand
Heart to heart and hand in hand.
(Screenshot from Dad Is the New Mom)
Merry Christmas, everyone!
Sources
ABE Books, Top 10 Dr. Seuss facts you may not know
Chuck Jones, Tag Archives: Boris Karloff
Tulgey Wood, Karloff the Uncanny, December 18, 2011
IMDb, Boris Karloff, June Foray
Deborah Rieselman, UC Magazine, UC grad Al Hague composes 'How the Grinch Stole Christmas"
Lisa See, Fame Forever, Before Fame Made Albert Hague Famous, He Had a Colorful Career as a Musician
All Music, Albert Hague Artist Biography