On the news the other day, they were talking about Hillary Clinton running for President, and they mentioned a woman named Shirley Chisholm who was a politician some thirty years ago or so. They said she was the first woman to run for President.
Is this true? I'd like to know more about her, at least. And surely some other women have run for President besides Chisholm and Clinton. Okay, maybe on a minority party ticket or something. But there
has
to have been more than two women, ever, who ran for President.
Shirley Chisholm
Was the first African-American woman elected to Congress
Served in the House of Representatives on behalf of New York City's 12th District from 1968 until 1982.
She hired an all-female staff, spoke out in favor of civil rights, voted for education and employment support programs, expansion of day care, and income support for the urban poor. She also spoke in favor of ending the military draft and reduced defense spending.
She was a co-founder of the National Organization for Women (NOW).
In 1970 she wrote a book called Unbought and Unbossed. This was the catchphrase she used when she campaigned for Congress.

The following year, she entered the primaries as a Democratic candidate for President. She did not receive her party's nomination, but she did win 151 delegate's votes from 26 states.
Had she won the nomination, she would have run instead of George McGovern against Richard M. Nixon.

Chisholm retired from politics when she left the House in 1982.
She died two years ago, at the age of 81.
Shirley Chisholm, with Presidential hair and outfit, campaigning in 1972 at a NOW-sponsored rally.
(Photo by Rose Greene, from NOW's page on Shirley Chisholm)


Here are some things she said while in public office:
Women in this country must become revolutionaries. We must refuse to accept the old, the traditional roles and stereotypes.
I am deeply disappointed at the clear evidence that the number one priority of the new administration is to buy more and more and more weapons of war . . . The Congress must respond to the mandate that the American people have clearly expressed. They have said, 'End this war. Stop the waste. Stop the killing. Do something for our own people first.'...For this reason, I intend to vote 'no' on every money bill that comes to the floor of this House that provides any funds for the Department of Defense. . . . as I walked out I overheard (probably was meant to overhear) one member say to another, "You know, she's crazy!"
As I suspected, Rep. Chisholm was not the first woman to run for President; many women have run. Many didn't make it past the primaries, and those who did so ran under a minority party.
In addition to the women listed below, several women ran for Vice President (Geraldine Ferraro, India Edwards, Judge Sarah Hughes, etc.). But we're talking President here, the Big Cheese. So let's focus on that.
I should say that this list is incomplete, given ballot inconsistencies from state to state, and given the fact that the farther back in history, the fewer ballots that have survived and the less detailed they were.
That said, let's look at the contenders in reverse chronological order:
Hillary Rodham Clinton, 2007
First woman elected to the US Senate from New York (well, she's sort of from New York).
Only First Lady ever elected to public office.

Carol Moseley Braun, 2004
Raised $627,869 to campaign in the Democratic primaries. She received 103,205 votes from 13 states, but she dropped out after the first primary.
Carol Moseley Braun, also at a NOW-sponsored rally, in August of 2003
(Photo by Lisa Bennett, at NOW's website)



Elizabeth Dole, 2000
Raised over $5 million before the Republican primaries while she considered whether or not to run. She decided against running, however, and her name did not appear on any ballots.


Monica Moorehead, 2000
Ran for Presient for the the Workers World Party and won 4,795 votes.

Also ran for the same party in 1996 and won 29,083 votes.

Marsha Feinland, 1996
Ran for President for the Peace & Freedom Party and won 25,332 votes.
Marsha Feinland is the Chair of the Peace & Freedom Party in California, where she has also run for State Senate.
(Photo provided by the candidate, at the League of Women Voters' Smart Voter site)


Isabell Masters, 1996
Ran as a Presidential candidate for the Looking Back Party.
Also ran for the same party in 1992.
She also campaigned in the Republican primaries in 1988, 1992, and 1996.
She has had her name on more Presidential ballots, whether for the primaries or the general election, than any other woman.
Lenora Fulani, 1992
Ran as a candidate for the New Alliance Party, with her name appearing on the ballot in 48 jurisdictions. She won 73,708 votes, which put her in sixth place.

She also ran for the same party in 1988, and her name appeared on the ballot in 51 jurisdictions.
No other woman candidate has had her name appear on the ballot in as many jurisdictions.


Patricia Schroeder, 1992
Won 8 delegate's votes at the Democratic Convention
Raised $872,462 expecting to run in the 1988 campaign. This was more than any other potential female Democratic candidate had raised. She dropped out after only three months, however, and her name did not appear on any of the ballots used in the primaries.
Pat Schroeder, in March 1980, when she was serving in the House
(Photo from University of Minnesota Alumni Association)
Mary Jane Rachner, 1992
Campaigned in the Democratic primaries
Also campaigned in the primaries in 1988, but as a Republican candidate.

Tennie Rogers, 1992
Campaigned in the Republican Party primaries, with her name appearing on 9 state ballots.

Martha Kirkland, 1984
Won 1 delegate's vote at the Democratic Convention


Koryne Horbal, 1980
Won 5 delegate's votes at the Democratic Convention

Ellen McCormack, 1976
Campaigned in the Democratic primaries and won 27 delegate votes from 5 states.
This photo of Ellen McCormack is from a 1976 campaign button
(Photo from a website in Russian about women who have campaigned for President in several countries)
Margaret Wright, 1976
Ran for President as the People's Party candidate.

Barbara Jordan, 1976
Won 1 delegate's vote in the Democratic Convention


Patsy Mink, 1972
First Asian-American woman to serve in the House of Representatives (1965)

First Asian-American woman whose name appeared on a Democratic primary ballot

Patsy Mink, Representative for the State of Hawaii from 1965 to 1977, and then again in 1990 until 2002
(Photo from the National Women's History Museum)
Charlene Mitchell, 1968
First woman to have her name appear on the general election ballot in November.

She was also the first African-American, male or female, to run for President. She ran on the Communist Party ticket. She won 1,075 votes from four states.
Margaret Chase Smith, 1964
Was the first woman to serve in both houses of Congress.
In 1950, she delivered a speech to the Senate called a Declaration of Conscience, in which she spoke out against McCarthyism.
Sought the Republican nomination to be a Presidential candidate. At the convention, she won 22 delegate's votes from 4 states.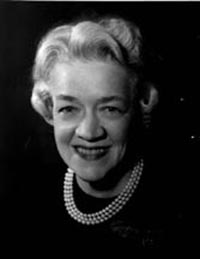 Margaret Chase's Smith official Senate photo
(Photo from the Senate Historical Office)
1920 - 19th Amendment ratified
, granting women the right to vote. So keep in mind that any women who ran before this date were not allowed to vote themselves.
Belva Lockwood, 1888
First woman allowed to practice law before the U.S. Supreme Court.
First woman to graduate from a national law school.
Ran for President on the Equal Rights Party ticket in 1888.

She also ran on the same ticket previously in 1884 and won 4,149 votes from people -- men -- in 6 states.
Belva Lockwood, lobbyist and lawyer, was not only the first woman to argue a case before the Supreme Court, but she was also the first person to ride a tricycle as a means of transportation through the streets of Washington, DC.
(Free photo from WPClipart)
Victoria Woodhull, 1872
First woman to trade on the stock market.
Petitioned Congress in 1871 to grant women the right to vote, under the 14th Amendment.
Her celestial talents as mystic and fortune teller were sought by Cornelius Vanderbilt, who then hired her to be his personal stockbroker.
Ran for President on the Equal Rights Party ticket, backed by Vanderbilt.
Generally considered to be the first woman who ran for President. Although, ballots were a little more fungible back then, so it's possible that another woman or women won some votes to be President of the United States.

Stockbroker, mystic, publisher, and Presidential candidate, Victoria Woodhull was quite an individual. You can read more about her in The Woman Who Ran For President: The Many Lives of Victoria Woodhull.
Quite a spectrum of women who've run for President. Kind of makes me want to give it a shot. What do you think? The Apple Lady for President?
Sources
National Women's Hall of Fame, Shirley Chisholm
Essortment, History, Shirley Chisholm biography
Excerpts from Shirley Chisholm's book

Unbought and Unbossed

, available at PBS's synopsis of a POV biography on Chisholm
Political Graveyard, 1972 Democratic National Convention
History Central, United States Presidential Elections, 1972
Jo Freeman, The Women Who Ran for President
Our Campaigns, US President National Vote, Race Details, 2000, Race Details, 1996, Race Details, 1992
Rutgers, Center for American Women and Politics, Firsts for Women in U.S. Politics
Phil Dirkx, "A pioneering woman who ran for President,"
San Luis Obispo Tribune
, February 15, 2007
Frances A. Cook, "Belva Ann Lockwood: For Peace, Justice, and President," Stanford, May 13, 1997