Some time back, Stefan Bucher who draws the
Daily Monsters
, put a link to the Daily Apple on his page. Since then, lots of people have come from his site over here to browse around. I've been meaning for some time now to do an entry on the Sharpie marker as a way of saying hello and thanks for stopping by.
In case you're not familiar with the
Daily Monsters
, Stefan does this really cool thing where he blows an ink blot onto a page, and then uses Sharpie markers to make a monster out of the ink blot. He films himself doing this and posts it in sped-up time onto his blog. So you get to watch the monster come to life in Sharpie-fast-action. As a friend pointed out, watching him do the fills with the Sharpie is very satisfying.
One of Stefan's monsters in the making
(Photo still from Designers Who Blog)
I'm assuming that people who stop by here by way of his blog would be interested in Sharpies, markers, drawing, and what-not. So, Daily Monster visitors, here you go.
The black Sharpie. Stefan's and many artists' weapon of choice.
(Image from Jerry's Artarama discount art supplies)
The Sharpie was invented by the Sanford Ink company in 1964. It was the first pen-style permanent marker. Johnny Carson and Jack Parr endorsed Sharpies on their shows.
Currently, more than 400 million Sharpies are made each year. That's enough for 4 Sharpies per household in the US. Do you have 4 Sharpies? I think I have 5. So if you've only got 3, maybe I have yours.
"Permanent" marker means the ink contains either dyes or pigments, it will write on most surfaces, and it is water-resistant. It might smudge if you get water on it, but it won't go away entirely.
The black ink in Sharpies is permanent ink, which is made with ethylene glycol monobutyl ether (EGBE) in an alcohol solvent.
Ethylene glycol - A member of the alcohol family. Used in antifreeze and deicers as well as in ink. Don't worry, it's not carcinogenic. If you inhale a lot of it, though, you could be in for some serious respiratory damage.

Combine ethylene glycol with monobutyl ether and you get a very effective cleaning solvent. Which is sort of funny because the Sharpie ink, which contains EGBE, is very hard to remove.

The colored inks are made of Permchrome, which is a proprietary formula (meaning they won't say exactly what it is). These inks are also based in alcohol but they don't contain glycol ethers.
To get Sharpie out of fabrics, some people recommend spraying the area with hairspray or rubbing alcohol and then blotting with paper towel. If that doesn't work, there are some specialty ink removers.

These 24 Sharpies in a zip case cost $29.99.
SOME THINGS TO DO WITH SHARPIES
On your walls
One man in Kentucky drew a mural on all the walls of his basement using $10 worth of black-ink Sharpies. Sounds like it might be kind of ho-hum, but because he likes mystery novels, the drawings include lots of bookshelves as well as his renderings of people like Hercule Poirot and Sherlock Holmes, lounging in his basement. Check out the 360 video of his basement.

If you want to color your own wallpaper, but you're not that good at drawing, you could buy this wallpaper designed by Jon Burgerman in the UK, which he made to be colored in.
Jon Burgerman's colour-in wallpaper
(Photo from Jon's blog)
Justine Ashbee makes her own enormous art using Sharpies (paint pens, she says, but other people call them Sharpies). I'd post an image here so you could see but she doesn't want people to do that. So check out her photos of her art. It's pretty cool.
On your vehicles
You can re-paint your car. Jason Thorgalsen "tattooed" his Lamborghini using Sharpies. Apparently it took him 2 weeks.

(Photo by VOD Cars)
On your clothes
On your skin
Some people don't even bother with the T-shirts. They go straight to drawing on the skin, sort of like tattooing by Sharpie.
(Sharpie tattoo by Vince Diga, photo from Eating Sandwiches)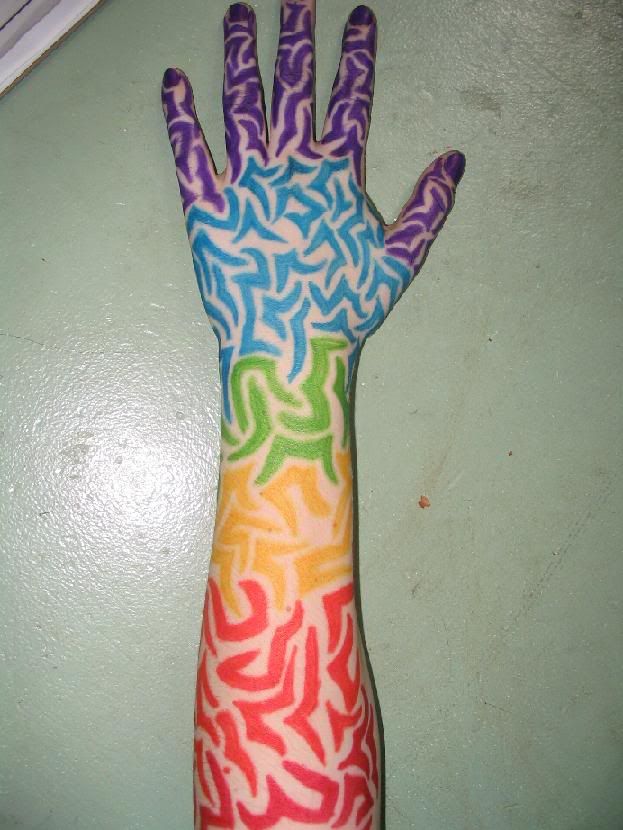 (Drawing and photo by Insanity)
Or, of course, you can Sharpie-tattoo your friends when they are asleep. Which is what seems to have happened to this poor sap.
If you're about to have surgery done, you'll probably be written on with a Sharpie. Before they cut people open, they mark the spot where the surgery is to take place, just to make sure they don't cut the wrong person in the wrong place or take off the wrong limb or whatever. And Sharpies are the pen of choice to make that X.

In your hair
One artist has used Sharpies to tint her hair. She uses Sharpies to draw, and she got the idea to give herself auburn low-lights with a red Sharpie. "It works and it stays in," she said. Jamie at a beauty blog recommends using Sharpies to touch up the gray in between appointments at the hair salon.

eHow says if you have a synthetic hair piece, like say for a weave, a cheap and fun way to dye it is to color it with Sharpies.

On paper or anyplace else
You could use them to make poems. Sure, you could write with them the old-fashioned way. But Austin Kleon uses them to black out some words from newspaper articles, and the words he leaves alone form poems.
I think this is called Gimmick. By Austin Kleon.
Four Seasons Fly Fishing uses Sharpies as part of the process of tying flies.
You could make a kaleidoscope using mirrors, PVC pipe, and Petri dishes. The Petri dishes are the part you draw on. Dr. Greivenkamp has complete instructions.

(Image from Pen2Paper, office supplies in the UK)
If you want more ideas for things to do with your Sharpies, stop by the
official Sharpie blog
.
P.S. The first race of the
Formula One
season is this weekend! I know you're all as excited as I am.
Sources
Sharpie History and FAQs
Agency for Toxic Substances & Disease Registry, ethylene glycol
Dow, Product Safety Sheet for Ethylene Glycol Butyl Ether
Cleanit Supply, Understanding "Butyl" (Ethylene Glycol Monobutyl Ether)
Thrifty Fun, Sharpie on Carpet
Don Retson, "Sharpies excise big expenses in operating-room budgets," Edmonton Journal, October 11, 2008