Here's another regular feature of Christmas:
A Christmas Carol,
originally written by Charles Dickens.
Frontispiece of

A Christmas Carol

by Charles Dickens, from the book's first publication in 1843.
(Image from Open Books)
You all know the story -- the world's biggest miser, Ebenezer Scrooge, is visited by the ghost of his dead business partner, Jacob Marley, who warns him that he must change his parsimonious, skin-flint ways or risk spending eternity in hell carrying around a heavy chain forged by his own misdeeds. Scrooge scoffs. He is then visited in the middle of the night by three ghosts, each of whom show him his past, present, and future. He sees that, in his past, he was liked and he wasn't always a grumpy old goat. In his present, he sees that the people around him like his employee Bob Cratchit are struggling to get by because of his penny-pinchitude, and yet most of them still think of him kindly. In his future, he sees his own death. He wakes up from this series of visions grateful to be alive and ready to celebrate Christmas with a happy, generous spirit of giving to all those around him.
It's a tale of redemption. It's a tale of reform that is so popular because it hits us where we live. I think we all have a bit of the "Bah, humbug" in us at Christmas time and during the rest of the year, too. But we also have a bit of the Bob Cratchit in us, the long-suffering employee who is unappreciated and underpaid. So when Scrooge reforms and gives generously to Bob and his family in a way he has never done before, we are renewed and refreshed with along with Scrooge, even as we sigh hopefully that we will also be rewarded for our hard work and loyalty as Bob has. In short, it hits all the buttons of satisfaction and happiness and justice.
Dickens wrote it in 1843, in about a month. He wanted it to be published with hand-colored illustrations, to have gilt on the cover, and a good binding. His publishers were concerned that these extra embellishments would keep it from making enough money so he said, "Fine, I'll pay for all that myself," and he did. He also insisted that his publishers charge only 5 shillings a copy for it so that everyone who wanted one could afford it.
One of the hand-drawn, full color illustrations from the original. This is of Marley's Ghost visiting Scrooge.
(Image from A Christmas Carol in Project Gutenberg)
In the first few days, it sold 6,000 copies. That was not enough to make the book's publication profitable, but that no longer seems to matter. The story's popularity has only continued to grow since then.
The thing of it is, I'm willing to bet that most of us have never read the original, written
A Christmas Story.
I'm not saying this to shake my finger in admonishment but to demonstrate a point: This story has been told and re-told so many times and in so many ways, we all know it and could practically recite it in our sleep even though we've never read it.
It's been told in movies, in cartoons, in plays, in musicals, in other books. It's been shortened, the names of the characters changed, the time and the place altered. It's been set to music. Somewhere, there are probably a few mimes acting it out on a street corner.
There's even a
Christmas Carol
video game. Before each stage of a puzzle that requires you to match pieces, you get bits of the story.
You can download a free trial from Big Ant Games.
Even Dickens himself adapted his own novel. After its publication and subsequent popularity, he reduced it so it could be read in one sitting and gave dramatic public readings.
Fast forwarding to today, there is usually at least one version of the movie on TV in the weeks before and again on Christmas Eve.
This one, starring George C. Scott, is the most popular movie version
(Image from Popular Nostalgia)
One could even argue -- and I'm going to -- that another enormously popular Christmas movie,
It's a Wonderful Life,
is itself an adaptation of
A Christmas Carol
. George Bailey is desperate. The thing that has made him desperate is money -- not a nasty hoarding of it, but the serious want of it. An angel comes to visit him and takes him, not to the past, but to an alternate version of the present. In looking at this alternate present, George sees his contributions, which had little to do with money, and therefore himself in a new light. Consequently, he values himself and the people around him in a way he did not before, discovering the riches inherent in each of them, and as a reward, baskets of money are brought in and dumped on the table. It is another story of redemption, a true conversion of heart, occasioned by monetary issues, and facilitated by an otherworldly creature.
George Bailey, reinvigorated after having been guided through his own life by a spirit, just as Ebenezer was.
(Photo from Catholic Maine)
So I thought I'd see just how many versions of
A Christmas Carol
there are. Little did I know that one small question would bring forth such an avalanche of respondents. There are so many versions of the story, I cannot possibly include them all here.
I included movies -- ones with real people as well as animated ones -- TV shows, and theatrical productions. I left out books. I left out movie versions that were released only in the UK or Australia or France or Italy, etc. There was no way I could include every TV show that had a single episode that riffed on
A Christmas Carol
, so I included those which stood out to me for some reason -- they were especially bizarre, or have become well-known, or they include characters or actors whom you would never imagine in such roles.
I also included a relative smattering of plays and musicals. There are so many versions performed in so many places, I don't even really have a rhyme or reason to what I included and what I omitted. It is enough to say that what I have listed here is maybe 10% of what's really being performed out there.
I don't expect most of you to read every single item on this list. My main intent is to provide a very large buffet of versions for you to scan and note the occasional oddity that catches your eye. The number of silent movie versions, for example. The fact that there's a Barbie
Christmas Carol
. Dom DeLouise and Sheena Easton were in one of the animated versions together. Etc.
For those of you true-blue, hard-core
Christmas Carol
fans out there who have made it a point to see every single version you can possibly find, I hope I've identified at least one version that is new to you. But I doubt it. Because I know how dedicated some of you are.
All that said, here is my list of versions of
A Christmas Carol.
The list is in chronological order for each format, from oldest to newest.
Movie Versions


A Christmas Carol
(1908) 15 min. Silent.
A Christmas Carol
(1910) 17 min. Silent.

The Right to Be Happy
(1916) Silent.

A Bit o' Heaven
(1917) Silent.
A Christmas Carol
(1938) 69 min. Reginald Owen, Gene Lockhart, Kathleen Lockhart, June Lockhart, Leo G. Carroll, Terry Kilburn.
Screen shot from the 1938 version with Reginald Owen and Ann Rutherford.
(Photo from Ferdy on Films)



A Christmas Carol
(1951) 86 min. Alastair Sim, Meryvn Johns, Michael Hordern, Glyn Dearman.

This one is my favorite. I especially like how Scrooge tells himself that the apparition that is Jacob Marley might have been caused by indigestion, "a bit of underdone potato," and giggles.
(Image from Cdron97's December blog)
Scrooge
(1970) 115 min. Albert Finney, Sir Alec Guinness, Edith Evans, Kenneth More. Singing and dancing.
A Christmas Carol
(1984) 100 min. George C. Scott, David Warner, Susannah York, Frank Finlay, Edward Woodward, Nigel Davenport.
Amazon's ranked list
of movie versions puts this one at the top.
Scrooged
(1988) 111 min. Bill Murray, John Forsythe, Karen Allen, Carol Kane, Bobcat Goldthwait.
Bill Murray being his best smart-ass self. I like him better before he reforms.
(Screen shot from Other Kids Pack Lunch)
A Christmas Carol
(1999) 93 min. Patrick Stewart, Nick Adams, Desmond Barrit, Charlotte Brittain, Tom Brown, Kenny Doughty, Laura Fraser.
A Carol of Christmas
(2005) 101 min. Andy Pesek, Holly Pesek, Annamae Pesek, Sean Rocco, Chris Rocco, Timmy Rocco. Comedy filmed in Kansas City starring, apparently, screenwriter and director Andy Pesek's family.
A Christmas Carol
(2010) no further information available yet.
Animated
Versions
or Versions with Puppets
Mr. Magoo's Christmas Carol
(1962) 52 min. Jim Backus, of course.
I've never seen this. How can the ghosts show colossally nearsighted Mr. Magoo his past and future? Sounds like a recipe for comedy....
(Image from Wikipedia)

A Christmas Carol
(1971) 28 min. Alastair Sim, Michael Hordern, Melvyn Hayes. Won an Oscar for animation in 1973.
Bugs Bunny's Christmas Carol
(1979) 8 min. Mel Blanc, who else? Yosemite Sam as Scrooge.

Mickey's Christmas Carol
(1983) 26 min. Scrooge McDuck, Mickey Mouse, Goofy, Jiminy Cricket, Daisy Duck, Donald Duck.
Alvin and the Chipmunks
(1983) one episode.
"A Keaton Christmas Carol" (1983) one episode of
Family Ties
. Alex P. Keaton as Scrooge.
The Jetsons Christmas Carol
(1985) 30 min. Cosmo Spacely as Scrooge, Astro as Tiny Tim.
It's only available on VHS but it's considered collectible, so prices start around $14 on Amazon
John Grin's Christmas Carol
(1986) Robert Guillaume (remember Benson?) as Scrooge.
Brer Rabbit's Christmas Carol
(1992) 58 min. Christopher Corey Smith as Brer Rabbit.

The Muppet Christmas Carol
(1992) 89 min. Michael Caine, Kermit the Frog, Miss Piggy, Fozzy Bear, Gonzo, Dr. Bunsen Huneydew.
Michael Caine is sort of tucked away in the background in this image. That's probably because the Muppets are the real stars of this movie -- or any movie that they're in, for that matter.
(Image posted by saribear at ohnotheydidnt)

A Flintstones Christmas Carol
(1994) 90 min. Fred & Wilma, Barney & Betty, Pebbles & Bamm-Bamm, Dino.

Ebbie
(1995) Susan Lucci as Elizabeth "Ebbie" Scrooge.

A Christmas Carol
(1997) 72 min. Tim Curry, Whoopi Goldberg, Michael York, Ed Asner.

An All Dogs Christmas Carol
(1998) 73 min. Steven Weber, Dom DeLuise, Sheena Easton, Ernest Borgnine, Charles Nelson Reilly.

Christmas Carol: The Movie.
(2001) 77 min. Simon Callow, Kate Winslet, Nicolas Cage, Jane Horrocks, Michael Gambon, Juliet Stevenson. Starts live action but switches to animated.
The Muppet Christmas Carol: Frogs, Pigs, and Humbug--Unwrapping a New Holiday Classic
(2002) 22 min. Michael Caine (archive footage, probably from the 1992 version), Paul Williams, Miss Piggy, Kermit (someone else does his voice), Brian Henson.
A Sesame Street Christmas Carol
(2006) 46 min. Exists only on DVD. Tim Curry, narrator, Jim Henson as Ernie (archived voice footage), Frank Oz as Bert (archived voice footage), Bob McGrath (you know, Bob), Kristin Chenoweth. Oscar the Grouch as Scrooge.

Bah, Humduck! A Looney Tunes Christmas
(2006) Daffy Duck as Scrooge.
Barbie in a Christmas Carol
(2008) Also only on DVD. I couldn't resist including this one.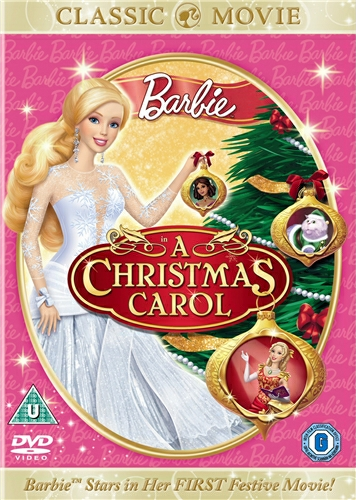 (Photo from Barbie Movies Wiki)
"Dora's Christmas Carol" (2009) one episode of "Dora the Explorer." Swiper the Fox as Scrooge. Santa and his reindeer show up, too.
A Christmas Carol
(2009) IMAX
3D
. 98 min. Jim Carrey, Gary Oldman, Colin Firth, Cary Elwes, Robin Wright Penn, Bob Hoskins.
This version looks like a souped-up madcap Disney special effects 3D bonanza. It uses performance capture animation in 3D. Apparently it made $31 million the first week it opened, but I haven't heard or seen much about it.
(Image from Moviewallpaper.net)
TV Versions
A Christmas Carol
(1943) 60 min. William Podmore. At the time, it was the longest play ever broadcast on television.
A Christmas Carol
(1947) John Carradine, Eva Marie Saint (the woman who played opposite Cary Grant in
North by Northwest
). This was her TV debut, and it was less hip than the one she starred in 17 years later.
A Christmas Carol
(1949) 25 min. Vincent Price, narrator, Taylor Holmes, Jill St. John, lots of TV actors from the days of Bonanza and thereabouts.
Story of the Christmas Carol
(1955) 29 min. Norman Gottschalk, Eugene Troobnik, Gretrude Breen. I did not make up these names.
Carol for Another Christmas
(1964) 84 min. Eva Marie Saint, Ben Gazzara, Steve Lawrence, Peter Sellers. Written by Rod Serling. In this version, the Scrooge-like guy never recovered from the death of his son killed in action in 1944. The son was played by Peter Fonda, but his scenes were cut before release.
Peter Sellers played Imperial Me, the guy in charge in this version's post-apocalyptic future.
(Photo from Wikipedia)
Rich Little's Christmas Carol
(1978) 55 min. Rich Little performs every role.
An American Christmas Carol
(1979) 98 min. Henry Winkler.
Skinflint: A Country Christmas Carol
(1979) 120 min. Hoyt Axton, Barbara Mandrell, the Statler Brothers.
A Christmas Carol at Ford's Theatre
(1979) 120 min. Ron Bishop. Film of a play performed at Ford's Theatre in Washington, D.C.
A Christmas Carol
(1981) 110 min. William Paterson, Raye Birk, Lawrence Hecht.
A Christmas Carol
(1982) 87 min. John Gielgud as the narrator, Marshall Borden as Charles Dickens, Richard Hilger as Scrooge. Play filmed at the Guthrie Theater in Minneapolis.
Blackadder's Christmas Carol
(1988, BBC) 43 min. Rowan Atkinson, Tony Robinson, Miranda Richardson, Steven Fry, Hugh Laurie. Black comedy.
Combom, a self-professed movie addict and fan of Blackadder's recommends this one.
(Photo from We Love Movies)
T-Bag's Christmas Carol
(1989) (UK) Elizabeth Estensen as Tallulah Bag, a.k.a. T-Bag. My reasons for including this are obvious.
A Christmas Carol
(1994) (UK) Ballet starring Jeremy Kerridge and Ron Vitalia.
Bah, Humbug! The Story of Charles Dickens' "A Christmas Carol"
(1994) 58 min. Live dramatic reading of the story. James Earl Jones and Martin Sheen do all the voices.
"A Solstice Carol" (1996) one episode of
Xena: Warrior Princess
. You can watch the episode at
3click.tv
.
A Diva's Christmas Carol
(2000) 120 min. Vanessa Williams as Ebony Scrooge, Rozonda "Chilli" Thomas, Kathy Griffin. VH1 adaptation includes a mini
VH1 Behind the Music
episode about Ebony Scrooge.
A Carol Christmas
(2003) 120 min. Tori Spelling as Carol, William Shatner uses a Star Trek teleporter to transport Carol about, Gary Coleman as the Ghost of Christmas Past.
Who decided to put these three people in a movie together?
(Photo from Love Film.com)
A Christmas Carol: The Musical
(2004) 97 min. Kelsey Grammer, Jesse L. Martin, Jane Krakowski, Jason Alexander, Jennifer Love Hewitt. Imagine all these people singing and dancing.
"Michael's Wonderful Life" (2008) One episode from
The Young and the Restless
in which Michael Baldwin sees what would have happened if he had never been born. It's a version of a version.
Musical or Theatrical Versions not available on film
This list of theatrical performances can't even come close to representing the number of theatrical productions that go on each year across the United States and around the world. Chances are, wherever you happen to be, some theater company near you is orobably giving a performance of it.
Raton Art & Humanities Council and Santa Fe Trail School's combined performance, at the Shuler Theater in Raton, NM
(Photo from the Raton Art & Humanities Council)
A Christmas Carol
(1974) Musical comedy. Written and directed by Ira David Wood III. Still being performed in at Theatre in the Park, Raleigh, NC.
A Christmas Carol
(1981) Musical. Premiere performance in 1981 at the Hartman Theater, Stamford, CT. Doesn't look like they're still doing it there, though.
A Christmas Carol
(1983) Theatrical. Adapted by Jeffrey Sanzel, who also plays Scrooge. Still being performed at Theatre Three, Port Jefferson, NY.

A Christmas Carol
(1988) Musical. Alan Semok as Scrooge. Still being performed by The Chatham Players in Chatham, NJ.
The Gospel According to Scrooge
(1986) Musical. Often performed by Christian church groups.

A Christmas Carol
(1988) Dramatic reading. Patrick Stewart reads and re-enacts the story.

Scrooge!: A Dickens of a One-Man Show
(1991) Adaptation and one-man performance by Kevin Norberg.

Scrooge: The Musical
(1992) Musical. Adapted from the 1970 film, performed in Britain by Anthony Newly.
A Christmas Carol
(1995) Broadway musical. Lyrics written by Alan Menken.
The cast recording is available on Amazon
.
A Christmas Carol
(1995) Theatrical. Adapted by Tom Haas. Characters address the audience. First performed more than 25 years ago; continuously running since 1995 at the Indiana Repertory Theatre in Indianapolis, IN.
How it looks in Indianapolis
(Photo from Indianapolis Events Calendar)

A Christmas Carol
(1997) Musical. Performed from 1997-2000 at the Players Guild Theatre in Canton, OH. Scheduled to be revived December 2009.

A Christmas Carol
(2003) Adaptation and one-man performance by Greg Oliver Bodine.
Steve Nallon's Christmas Carol
(2003) Adaptation and one-man performance by impressionist Steve Nallon as famous characters appearing in the story.
A Christmas Carol
(2003) Theatrical. Starring Ben Roberts. Performed in 2003 and revived in 2006 at the Derby Playhouse in Derby, England.
A Christmas Carol
(2006) Theatrical. Adaptation by Ron Severdia. Performed at the Barn Theatre in Ross, CA. Toured Europe in 2007.
A Christmas Carol 1941
(2007) Theatrical adaptation. Set during World War II.
A Christmas Carol
(2007) Theatrical. Performed by the North Coast Repertory in San Diego, CA.
A Christmas Carol
("annual ritual") Theatrical. Michael Haley as Scrooge, featuring the Hampshire Young People's Chorus, sets painted by local artist Amy Johnquest to evoke the streets of Northampton. At the Academy of Music Theatre, Northampton, MA.
Emmy winner Michael Haley as Scrooge in Northampton
(Photo from the Academy of Music Theatre)
A Christmas Carol
(2009) Theatrical. Adapted by Lezlie Wade and Kevin J. Etherington. A new version this year, starring Terence Kelly as Scrooge, at the Carousel Theatre, Granville Island, Vancouver.
A Christmas Carol
(2009) Theatrical. Performed by the Le Quoy Duong Company in English with Vietnamese subtitles. The company will be touring five major cities in Vietnam: Hanoi, Hue, Danang, QuyNhon, and Ho Chi Minh City. (For more information see
LookatVietnam
)
Do you have a favorite version?
Sources
David Perdue's Charles Dickens Page,

A Christmas Carol


International Reading Association, Read Write Think, Selected List of Video/Film Versions of

A Christmas Carol


IMDB, results for "christmas carol"
Wikipedia, List of

A Christmas Carol Adaptations
Websites of individual theatre companies