As I type this, it's still Father's Day. But by the time most of you read this, it won't be anymore. So I wondered, what holiday is yet to come in the near future that I can help you prepare for? A little Googling and I found the answer: International Picnic Day, June 18.
Le Dejeuner sur l'herbe (Luncheon on the grass) by Edouard Manet, 1862. A French guy's idea of a picnic. Involves nudity, of course. What do you expect? He's French.
(Painting by Edouard Manet, image sourced from 365 Foods)
No one's really sure how International Picnic Day started showing up on people's calendars. It's not a national US holiday; it's not officially recognized by Congress. Some "national" holidays turn out to be marketing schemes promoted by manufacturers of whatever product is being celebrated, but in this case, there isn't really an international picnic-maker, so that's not the case.
Some say International Picnic Day has something vaguely to do with labor unions. Often, particular labor unions have some sort of annual celebration, and those celebrations sometimes include picnics. But as you've probably gathered by my description, this is all a bunch of guesswork, and nobody's really sure.
Please don't confuse International Picnic Day (June 18) with National Picnic Day (April 23). The origins of National Picnic Day are similarly obscure. Since it makes much more sense to me to have a picnic in June (sunny, warm!) than in April (windy, maybe rainy or chilly), I vote in favor of the International version.
But even if we don't know why we're celebrating it, or why there are 2 holidays devoted to picnics, why not have a picnic anyway? Because June 18 is not only International Picnic Day, it's also International Panic Day. Why anyone wants to celebrate terror so complete it renders you incapable of all logical thought, I don't know. But it is another obscure holiday that is also celebrated for inexplicable reasons on June 18.
What better way to counteract Panic than to have a Picnic?
So, now that I've convinced you to have a picnic on June 18, here's how you can do that.
I'm sure you envision a picnic as spreading a red & white checked cloth on some patch of grassy ground, opening a wicker basket full of sandwiches and maybe potato salad or grapes & cheese, with maybe some lemonade or possibly even a bottle of wine in the bargain. Not that that's bad, but you don't need to feel like you have to have all that stuff, or eat a meal in exactly that way, because a picnic actually allows a lot more variety than that.
Your picnic does not have to look like this. In fact, if you're a living breathing human being, it probably won't.
(Photo from Latinas y punto)
Hopefully your picnic would look more like this.
(Photo from the Orange County Historical Society, sourced from Local Dog Picnic)
Or maybe your picnic would look like this.
(Photo from Sunshine and Silliness)
The word picnic comes from a French word, piquenique, which was kind of a nonsense word that came from the word for "to pick." It's generally assumed that it means "pick a little bit." That's because the first picnics were actually potlucks -- meals where each guest brought something, and everyone would sample from each dish. Thus you'd pick a little bit of this and a little bit of that. Piquenique.
These original piqueniques were informal by nature, and somebody at some point decided to add to the informality by having them outside. Over time, it was the outside part of the equation that stuck.
That's because eating outside is fun! Or it can be, if it's not too windy so all your napkins blow away, or if it's not too buggy. But you can choose where or how to have your picnic and avoid those possible unpleasantries.
The only rules of picnics are that you eat outside, and keep it informal. You don't have to carry the food there in a picnic basket. This culture likes to make you think you have to buy all sorts of cute & matching stuff in order to enjoy an event, or spend 17 hours making things all cutesy and matchy-matchy in your kitchen like some cookie-cutter Martha Stewart. But the heck with that. Get some food that tastes good, find a friend or two and go eat it outside!
Egad. If you want to spend money to get a bag of stuff that would allow you to think that your picnic could be absolutely perfect -- though I think "picnic" and "perfection" are oxymorons -- you could get this deluxe picnic backpack complete with 4-piece place setting for $49.50.
(Photo & backpack from Lee Valley)
Or wait. Even better. This "suitcase picnic basket" has stainless steel place settings for 4, a fleece blanket, a cheese knife & cutting board, corkscrew, vacuum flask, 4 wine glasses, and a "fully insulated corduroy wine duffel." For only $290! Ai yi. You'd need to take a vacation to get over the stress of paying for your picnic basket.
(Photo and picnic basket from Bed Bath & Beyond)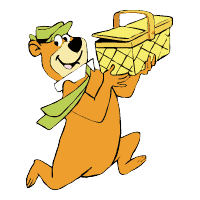 If you get one of those, then you're just asking for Yogi Bear to come find you.
(Image from The Gadgets Page)
You don't even have to prepare all the food yourself. You could ask your guest(s) to prepare something too, so it would be a picnic in the truly traditional sense of the word. If you wanted to.
You don't have to sit on the ground. You could eat at a picnic table. You could even eat on your own back porch. As long as it's outside and informal, it's technically a picnic.
Picnic area at Colerain Park in Cincinnati. Picnic tables under a tree, plus one of those grill things, even a place to throw away your trash. Looks like a great place to have a picnic.
(Photo from Colerain Township Parks)
How about a picnic on the beach? This beach is particularly exotic -- it happens to be in Fiji -- but maybe there's a little inland lake near where you live. Wouldn't it be nice to sit by that lake and have a little snack and listen to the water birds?
(Photo from Lalati Resort)
This British family is having a picnic on the lawn in front of some English school. Why not have a picnic in front of your school? (For those of you living in England, there's an iPhone app that helps you find picnic spots in Britain: Great British Picnics. What a great idea!)
(Photo from Traveling Greener)
A super-combo of an idea: tailgate picnic at the beach!
(Photo from Chronically Vintage)
You don't have to sit under the trees or even near the trees. You could picnic on the beach, under a tent, in a gazebo, or out of the back of your car. Yes, a tailgate counts as a picnic.
You don't have to have sandwiches. You could have hot dogs, especially if you're at a campground and one of those eternally-standing grill things is nearby.
You could have smoked salmon & bagels. You could have rice noodles with shrimp. Or maybe sushi or California rolls.
Instead of potato salad, how about beet & goat cheese salad? Or celery and carrot sticks? Or sliced watermelon? Or a bowl of blueberries and chopped strawberries?
The stuff you carry the food in doesn't have to be fancy. You could put the orzo salad in a Mason jar. The sandwiches could go in a paper bag. The sangria could go in a Thermos.
You could even have a picnic out of your bike. OK, this would require the purchase of a gizmo, and in this case, the gizmo is made by some guy in Sweden so it might be hard to come by, but it's still a good idea. Maybe it would inspire you to do some bicycle-picnicking.
Here are some picnic-friendly recipes I came across that looked like they might be good:
Get some food, find a pal, and go eat outside! Have a happy International Picnic Day!
The most important thing about a picnic is that everybody has a good time.
(Photo from Chronically Vintage)
Sources
Mental Floss, 20 Offbeat Holidays You Can Celebrate in June
Holiday Insights, June 2013 Bizarre and Unique Holidays
Mahalo, International Picnic Day
Snopes, Picnic Pique