I was going to make this entry about Miguel Cabrera, my mom's favorite baseball player. But after the Grand Slam that David Ortiz hit tonight, it seems more relevant to talk about him instead.
I'll get to Miguel Cabrera. But for now, Big Papi.
I'm not going to tell you all the batting statistics because you can look those up in a kajillion places. Instead, I want to find the lesser-known details. Like, for example, the size of his head. Every time he comes up to bat, I am stunned by the size of his head. That thing is enormous! It barely fits into his helmet!
David Ortiz, right, and 2 of his teammates. Look how much bigger his head is compared to the other guys'.
(Photo from Getty Images via Zimbio)
It turns out, hat size or helmet size is a closely guarded secret. Because apparently, if your hat size expands noticeably after you've gone through puberty, it's generally considered to be a sign of HGH use.
HGH thickens the bones in your forehead and jaw, necessitating larger hats, at the very least.
So I couldn't find David Ortiz's hat size anywhere. But maybe I can arrive at a ballpark figure (har har).
Barry Bonds' hat size increased from 7-1/4 to 7-3/8 (even though he took to shaving his head). That's in the neighborhood of 23-1/2" circumference. The MLB shop says that's an XL.
You'll notice that Bonds' head, in the more recent photo on the right, seems pretty well packed into his helmet compared to the photo on the left. More pertinent to us, though, is that in the photo on the right, his hat size is 7-3/8.
(Composite photo from Szyzygeist)
Now, I want you to notice how David Ortiz's helmet barely seems to fit on his head. And it looks bigger than Barry Bonds' head, doesn't it?
(Photo from The Joy of Sox)
Yeah, I'd say David Ortiz's head is bigger than Barry Bonds' (left).
(Photo by Deanne Fitzmaurice, SF Chronicle)
I don't know how much bigger David Ortiz's head is than Barry Bonds', but I would say it is definitely larger. Bigger than a 7 3/8, for sure. How much more, I couldn't say, but almost certainly in the XXL category.
Just to be clear, I'm not accusing the guy of anything. I'm not interested in using these statistics as a sign of whether he took something illegal or not. I just think he has an enormous freakin' head, that's all, and I wanted to see if I could find the number that showed that.
I'm also not trying to be metaphorical and imply that he has a big ego. All I'm saying is the guy has a large cranium.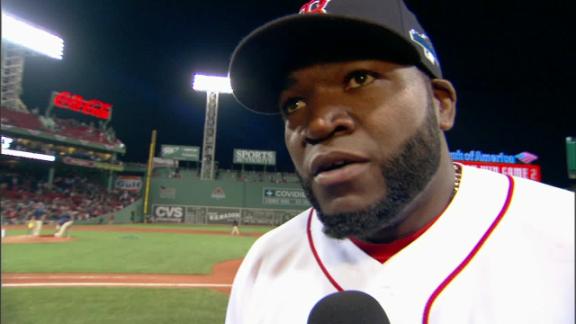 David Ortiz: Yeah, I'm not going to tell you my hat size, but you can bet it's pretty big.
(Photo from ESPN)
I did find other statistics related to his large physique.
He's 6'4" and between 255 and 260 pounds.
In 2007, he said his pant size was 40 x 34 (40" waist and 34" leg).
He wears a slightly larger uniform to give himself more room to make a comfortable swing.
His shoe size: 16. That's 12.5" long.
Jersey size: 54. That's 54 inches around. That's 4.2 feet, folks.
Finally, when you have a big dome, you can do things like this, no problem:
Sources
Can Steroids Enlarge Your Head? Slate, November 19, 2007
The HGH Handbook, Men's Fitness, September 2012
Bonds Jury Hears the Science of Steroids, The New York Times, March 24, 2011
Barry Bonds and the Smoking Ballcap, Sun Sentinel, March 29, 2011
The Papi Monologues, Boston Magazine, April 2007
Game Used Authentic, Game Worn Uniforms (this is the sort of link that will disappear in the future, so in case it does, here's what it says: "2007 David Ortiz Game Worn Jersey. Authenticated by PSA/DNA and JSA. Classic Old English 'Red Sox' appears in gentile arch across the chest, fashioned from straight-stitch affixed to front left exterior tail, with a '34 54 07' embroidered swatch denoting uniform number, size and year.")
EBay, RARE Reebok Baseball Softball Cleats Shoes #34 David Ortiz Boston Red Sox Sz 16